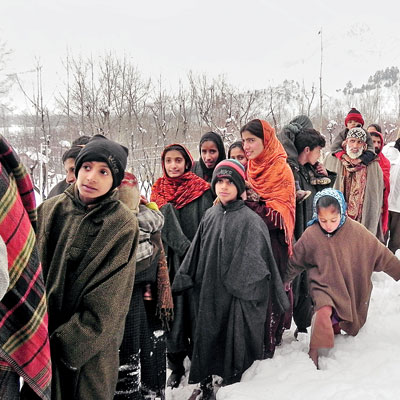 The contentious Article 370 has created ruckus after BJP's Jitendra singh commented on it and a huge ruckus soon followed and National Conference's Omar Abdullah hit back on the whole issue.
Pandit Jawaharlal Nehru's close aide Gopalaswami Ayyangar defended the incorporation of this article, saying India had been at war with Pakistan over Jammu and Kashmir, and though there was a ceasefire, it was necessary due to "unusual and abnormal" conditions. No state in the country has its own constitution except for Jammu and Kashmir, which follows the Ranbir Penal Code instead of the Indian Penal Code.
5 things you need to know about #Article370
First day; first show :-) pic.twitter.com/5HbRE91DFo

— Omar Abdullah (@abdullah_omar) May 27, 2014
So the new MOS PMO says process/discussions to revoke Art 370 have started. Wow, that was a quick beginning. Not sure who is talking 1/n

— Omar Abdullah (@abdullah_omar) May 27, 2014
Art 370 is the ONLY constitutional link between J&K & rest of India. Talk of revocation of not just ill informed it's irresponsible. 3/3

— Omar Abdullah (@abdullah_omar) May 27, 2014
Mark my words & save this tweet - long after Modi Govt is a distant memory either J&K won't be part of India or Art 370 will still exist 2/n

— Omar Abdullah (@abdullah_omar) May 27, 2014
After many leaders of the BJP and the Congress have come to comment about the practicality of Article 370 pertaining to the state of Jammu and Kashmir, dna spoke to some young people from the region.
Does it have same the same meaning as is being said or people think otherwise:
Javid Parsa, 26, General Secretary Maulana Azad Students Union says, "It is just a tool used by the National Conference and Congress since decades to fool the Kashmiris. As Omar Abdullah said that it is the only connection between India and the state, I personally believe this connection should not be there as it has nothing to do with our freedom movement."
Basharat Ali, 24, student of Conflict Studies says, "The existence of Article 370 does not serve the interests of the people of Kahsmir. It only gives status quoist elements a reason to believe that Kashmir has already been 'granted enough', so there is no need to give them anything else. I think we need to challenge this notion, let the Article 370 go, Kashmir will see a new movement. No doubt, once it goes, Kashmir will become a place of investment, not only for legal but illegal business also."
Farhana Jan, 23, student of Constitutional governance at TISS says, "Article 370 is a testimony to the fact that accession of Jammu & Kashmir to India was not absolute and no matter to whatever extent the Indian parliament may have diluted it, it still holds its importance till the time the citizens of J&K are allowed to choose a future for themselves through a referendum as per the promise of India's first Prime Minister and a Right to Self determination as per equally important standards of International Law. To maintain the indigenous nature of J&K within India Constitution, we can't allow Article 370 to be abrogated, though the fact remains that struggle of Kashmir freedom is not limited to 370 but for complete freedom."
Rameez Makhdoomi, 27, "Article 370 forms the only legal link between the controversial marriage of India and J&K and for many of uswho are happy to see a divorce would love to see this article revoked. Youth in Kashmir have seen futile India-Pakistan talks and are now disinterested in both the countriesand thus want anything that weakens the association."
Shahzad Hamdani, 28, a lawyer by profession says, "Article 370 is beyond any question an important part, that has given special status to the people of the state. The people of the state have to get together to protect it from any revocation or any amendment, since the rela value of this special status has alreafy been diluted from time to time".
Mushtaq-ul-haq-Sikandar, 28, a writer and an activist says, Article 370 is an emotional issue for the right wing in India. They have been raking this for creating emotional sensation and publicity. This article cannot be revoked without a due process of law which includes the passing of the resolution by the J&K Legislative Assembly by 2/3rd majoritythat needs ot be further ratified by the Rajya Sabha with 2/3rd majority. However,, the debate right now is nothing more than a political gimmick."
Mohammad Faysal, 22, doing BBA at Malaysia University says," The Indian state is now harping on the Article 370 which gives their illegal occupation/invasion a legal outlook. Kashmiris are fighting for their freedom not for the law whose provisions have long been abrogated. The right wing in India thinks that by repealing the law they will be able to replicate the pattern of Zionist settlements inside Palestine in Kashmir as well but they don't know that repealing it would automatically make Kashmir secede from Inidia. They will just make a noise time and again to befool the masses of India who are far away from the realities of Kashmir Occupation by their country. Kashmirus are fighting against the occupation, not just Article 370."
With inputs from Samiya Latief
Also read: Article #Article370: Jammu and Kashmir youth Speaks Up