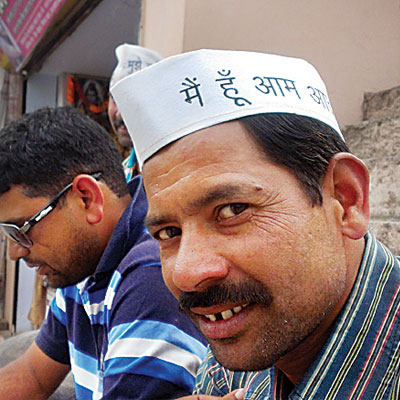 The charismatic broom that had entered corruption-ridden politics of Uttarakhand with a sorcerer's velocity seems to have disappeared from the political scene with the same speed.
Barring the two seats of Haridwar and Tehri that have a sizeable urban electoral base, Aam Aadmi Party (AAP) candidates seem desperate to avoid humiliation that comes in the form of forfeiture of deposit in the rest of the three seats.
In Haridwar, AAP candidates — former DGP of Uttarakhand, Kanchan Choudhary Bhattacharya of serial Udaan fame and in Tehri, Anup Nautiyal — are making their presence felt but not strongly enough to ruffle the feathers of the traditional giants. In Haridwar, Kanchan faces Congress' Renuka Rawat and BJP's Ramesh Pokriyal nishank. In Tehri, Nautiyal is up against BJP's Rajlaksmi Shah and Congress' Saket Bahuguna.
At Badhangarhi temple, near Tharali in Pauri constituency, NS Negi, ex-serviceman father of AAP candidate Rakesh Negi, tries to convince a lone elector to look at the credentials of his professor son and vote for him. After a lot of persuasion, the prospective voter, employed with Tharali Gram Sabha, remains unmoved.
"I don't know who AAP is. Why are you trying to convince a sarkari employee? This is a violation of the model code of conduct. It's my vote, my wish," says the voter before leaving in disgust. He forgets to thank Negi whose AAP cap he is wearing.
The exasperated father shifts his attention to another group of prospective electors — three temple priests. He fails again.
At Sabdhaar Khal block, the sight of two youngsters wearing AAP caps raises hopes of finding some support base for the broom. But appearances can be deceptive. "We are wearing the caps just to keep them in good humour," says Mohan Negi, whose vote is reserved for BJP candidate BC Khanduri.
The search for AAP supporters ends after a 180-km long journey at a tea shop near Pauri. Side-lining sarcasm from friends, Harpal Singh Chandel, a social activist, emphasises the need for AAP's politics.
"The people will soon understand their folly. How can the corrupt end corruption? That has made our life hell," says Chandel.
Chandel was the lone, die-hard AAP supporter that dna came across in Pauri constituency.
"AAP's success in Delhi elections attracted a multitude of youth in the 18-30 age group. Hundreds of young men and women, mainly students, joined AAP cadre last year. But Kejriwal squandered the gains when he resigned," says Professor MM Semwal, a seasoned political analyst of Uttarakhand. "People here took it as a personal loss, felt cheated and lost interest. The youth drifted away to others or became apolitical again."
In culturally active Almora, AAP's gains and the possibility of it gaining a third place has reduced to seventh or eight position among nine candidates. The bets are on whether AAP will get more than 5,000 votes or less.
"They lost the chance when they gave up Delhi. That helped us to some extent," says a confidant of Congress candidate Pradeep Tamta. "The presence of a third alternate would have made our contest difficult. We were nervous because of the AAP factor."
The story is no different in Nainital constituency where progressive poet Balli Singh Cheema from Haldwani is in the fray on AAP ticket. Locals love his songs; "Le mashaale chal pade hain log mere gaon ke, Ab andhera loot lenge log mere gaon ke (People of my village have started journey with torches in their hands, Now people of my village will rob the darkness to usher light)."
Despite Cheema's huge popularity, especially in the Punjabi-dominated Terai region, people do not want to waste their vote on AAP. "I have no quarrels with their politics. But no vote this time. Let them earn it the hard way now," says Sanjeev Bhagat, who runs a cooperative called Fruitage on the foothills of Nainital.