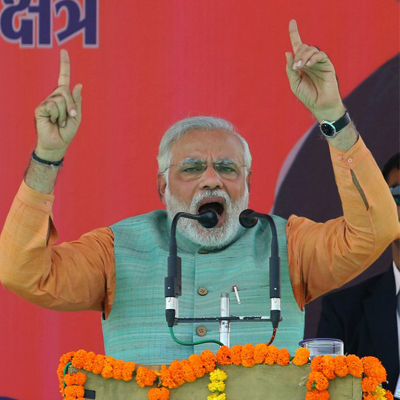 A video of Congress candidate from Saharanpur Lok Sabha constituency in Uttar Pradesh, Imran Masood, abusing BJP's prime ministerial candidate Narendra Modi has gone viral online.
The leader was caught on tape saying that he will "chop Modi into small pieces."
The video by India TV shows Masood saying, "UP is not Gujarat. There is only 4% Muslim population in Gujarat but in UP there are 22% Muslims here. I will fight against Narendra Modi because I know how to give a fitting reply to him. We will cut him into pieces."
According to Siyasat.com, Masood told a daily that the statement could be an old one. He also clarified his statement saying that what he meant was that he would teach Modi a lesson through the democratic process.
The website also reports that Masood refused to apologise for his comment against the BJP leader saying, ""I am ready to offer my apology only after Modi apologises for his misdeeds in Gujarat."
Soon after the video was picked by online and media portals, Maulana Khalid Rashid issued a statement slamming Masood's remarks on Modi.
Its uncivilized language,such hate comments have no place in politics-Maulana Khalid Rashid on Imran Masood pic.twitter.com/APz2waAshs

— ANI (@ANI_news) March 28, 2014
Defeat Modi by votes or legally if you want but hate comments are not acceptable.Congress should take action-Maulana Khalid Rashid on Masood

— ANI (@ANI_news) March 28, 2014
Congress should take action and apologize for this-Jagdambika Pal,BJP on Imran Masood pic.twitter.com/aM1JbSSnMf

— ANI (@ANI_news) March 28, 2014
Also read: Saharanpur Congress candidate Imran Masood criticised for threatening to chop Narendra Modi into pieces
Also read: Election Commission should file FIR against Imran Masood, cancel his candidature from Saharanpur: BJP leader Meenakshi Lekhi