RS member from Andhra K V P Ramachandra Rao is accused in multi- million titanium mine scam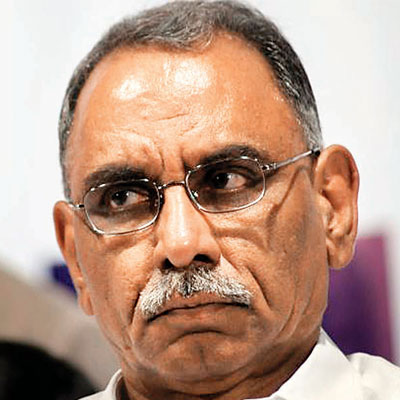 The US on Wednesday approached India for arrest of Congress Rajya Sabha member KVP Ramachandra Rao, who has been indicted by a US Federal Jury on charges of receiving bribes of $18.5 million from an American firm which was allowed mining of titanium minerals in Andhra Pradesh.
In a letter sent by American National Crime Bureau through Interpol to the CBI, the US authorities have said Rao should be put under provisional arrest till all the documents were handed over to India through diplomatic channels for his possible extradition to stand trial in Chicago, official sources said.
The US also informed CBI that Interpol had already been approached for issuance of Red Corner Notice against Rao, who was charged in the US in an alleged international racketeering conspiracy involving bribes worth $18.5 million to state and central government officials in India to allow the American firm undertake mining of titanium minerals in Andhra Pradesh.
Dr KVP Ramachandra Rao, a close aide of late chief minister YS Rajasekhar Reddy, has been named along with Ukrainian industrialist Dmitry Firtash and four others by a US grand jury for their suspected roles in bribing Indian officials for a titanium mining contract in Andhra Pradesh, the US Justice Department had said on April 3.
"Ramachandra Rao was abusing his position as an official of the state of Andhra Pradesh and close advisor to chief minister YS Rajasekhara Reddy to solicit bribes for Indian public officials, including himself, in return for approval of licences for the project; (ii) agreeing to accept bribe money, including bribe money for his own benefit, in return for the approval of licenses for the project; and (iii) warning fellow enterprise members concerning the threat of a possible law enforcement investigation of the project," reads the Federal Indictment.
The red corner notice has been sent to additional director general of CID at Hyderabad. "There is no exemption to Rao even if he is a parliament member. Hyderabad CID officials will take a final call on his arrest," said a CBI spokesman.
Meanwhile, according to a local TV report KVP Ramachandra Rao was sworn in as Rajya sabha member at a hush-hush event in parliament house at 11am on Wednesday. An agency report said that KVP had denied any knowledge about the uranium scam. "I have not received any notice officially and have no information about what the US authorities are doing," PTI quoted him as saying.
Firtash, who was arrested in March in Austria, was allegedly the mastermind behind the multimillion-dollar scam, said the US Justice Authorities in Chicago. He had also allegedly met former Congress chief minister YSR to discuss a joint venture between his company and the state government in 2006. Ramachandra Rao and five other defendants, allegedly conspired to pay at least $18.5 million to Indian officials in bribes to secure licences to mine minerals in Andhra Pradesh. The mining project was expected to generate more than $500 million annually from the sale of titanium products, including sales to an unnamed "Company A," headquartered in Chicago.
Among the companies involved in the conspiracy was Group DF Limited, a British Virgin Islands company controlled by Ukrainian billionaire Dmitry Firtash. Group DF companies include: Ostchem Holding AG, an Austrian company in the business of mining and processing minerals, including titanium; Global Energy Mining and Minerals Limited, a Hungarian company, and Bothli Trade AG, a Swiss company, for which Global Energy Mining and Minerals was the majority shareholder.
The indictment also named Gajendra Lal, 50, an Indian national and permanent resident of the United States, who was allegedly the fixer and who recommended whether, and in what manner, to pay certain bribes to government officials. The indictment lists 57 transfers of funds between various entities, some controlled by Group DF, in various amounts totaling more than $10.59 million beginning April 28, 2006, through July 13, 2010.
As per the US laws, all the accused will be produced before Chicago court where they can either enter into a plea bargain or face the trial.