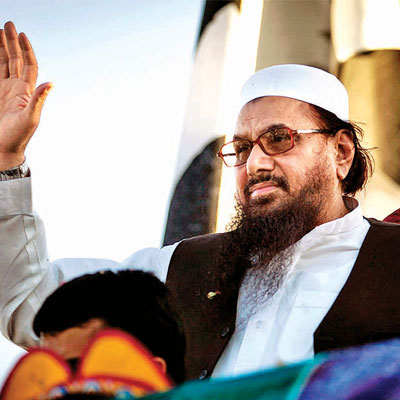 Finally, the US too is saying it: Hafiz Saeed is a terrorist.
The US state department has placed Saeed-run Jama'at-ud-Dawa (JuD) in the list of banned foreign terrorist organisations. The immediate implication is the freezing of all JuD assets under US jurisdiction.
Hafeez Saeed is the founder of Lashkar-e-Taiba (LeT).
Sources, however, say it may not affect JuD's operations as most of its money comes through hawala channels and is also raised from within Pakistan.
A US state department statement said: "In December 2001, the Department designated LeT as a foreign terrorist organisation. Since the original designation occurred, LeT has repeatedly changed its name in an effort to avoid sanctions."
"More specifically, LeT created Jama'at-ud-Dawa as a front organisation, claiming that the group was an organisation for the preaching of Islam, politics, and social work," it said.
Going a step ahead, the US treasury department separately designated two LeT leaders -- Nazir Ahmad Chaudhry and Muhammad Hussein Gill -- as "specially designated global terrorists", imposing economic sanctions on them.
The announcements have come as a shot in the arm for Indian investigative agencies, which, subsequent to the 26/11 Mumbai terror attacks that killed 166 people, had emphatically concluded Hafiz Saeed was one of the masterminds behind the attack.
Even Ajmal Kasab, the lone terrorist captured during 26/11 terror strike, also claimed meeting Saeed in a training camp in PoK, where all 10 terrorists were given commando training.
In 2012, the US had offered a reward of $10 million for information leading to the arrest of Saeed.
So far, no one has been able to provide any conclusive proof as Saeed has deftly cleared his name from all activities of the LeT.
Top sources in the Indian security establishment, however, say that the ban on JuD as a terrorist organisation can lead to the fall of Saeed too.
But they are not sure how effective this would prove to prompt Pakistani authorities to act against JuD and Saeed.
"Pakistan has got into its own spun web. For long, Pakistan, especially its Army and the ISI, kept promoting JuD, Saeed and LeT. Now, the monster has grown so big that it would need an iron resolve to act against it," said a source.