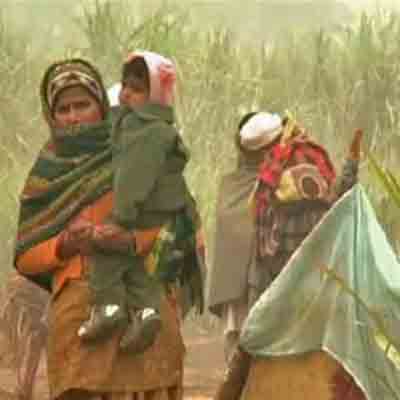 In a jolt to the Akhilesh Yadav government in Uttar Pradesh, the Supreme Court on Wednesday held that it was prima facie responsible for negligence in preventing communal violence in Muzaffarnagar and adjoining areas, but refused to direct a CBI or SIT probe into the cases.
A bench headed by Chief Justice P Sathasivam said that the incidents of communal clashes and subsequent violence could have been prevented by the Samajwadi Party-ruled government if the intelligence agencies had detected these problems.
"Had the Central and State intelligence agencies smelt these problems in advance and alerted the District Administration, the unfortunate incidents could have been prevented. Thus, we prima facie hold the State government responsible for being negligent at the initial stage in not anticipating the communal violence and for taking necessary steps for its prevention," it said.
The bench, also comprising justices Ranjana Prakash Desai and Ranjan Gogoi, directed the government to pay compensation of Rs 15 lakh to family members of those who lost their life and Rs 5 lakh to rape victims.
It passed a slew of directions for proper investigation in the cases and directed the government to bring to book all accused irrespective of their caste, religion and political affiliation.
The court said that CBI or SIT probe cannot be directed at this stage in view of various steps taken by the state government including the setting up of Special investigation Cell.
"In the light of various steps taken by the State, facts and figures, statistics supported by materials coupled with the various principles enunciated in the decisions referred above, we are of the view that there is no need to either constitute SIT or entrust the investigation to the CBI at this juncture.
"However, we are conscious of the fact that more effective and stringent measures are to be taken by the State administration for which we are issuing several directions," it said.