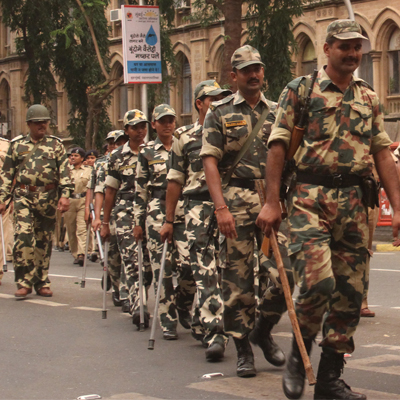 More than two lakh gun-toting paramilitary personnel, thousands of vehicles and nearly a dozen helicopters will be deployed across the country to ensure smooth and violence-free elections beginning April 7.
During the nine-phased polls, spread over nearly two months, the Home Ministry has chalked out the deployment plan for 543 constituencies having a total electorate of 81.4 crore with the special focus on violence-hit states.
"It is a massive exercise. But we will ensure peaceful polling. We are also taking special measures for Naxal- affected states, Jammu and Kashmir and Northeast," Joint Secretary in the Home Ministry, MA Ganapathy said.
The two lakh paramilitary personnel along with vehicles are being requisitioned from forces like CRPF, BSF, ITBP, SSB and Assam Rifles for deployment across the country.
Home Ministry will press into service more than 100 trains to transport paramilitary forces for deployment during the elections.
In this mammoth exercise, the trains will be used for the swift movement of forces from one state to another according to the election schedule and security considerations.
Railways has been requested to provide two sleeper coaches for each company (around 100 personnel) and two coaches with special trains instead of general coaches for the smooth mobilisation of troops.
The hired trains will be used for long-distance transportation of forces while, for shorter distances, security personnel will travel by road. Thousands of private vehicles will also be requisitioned to ferry the forces.