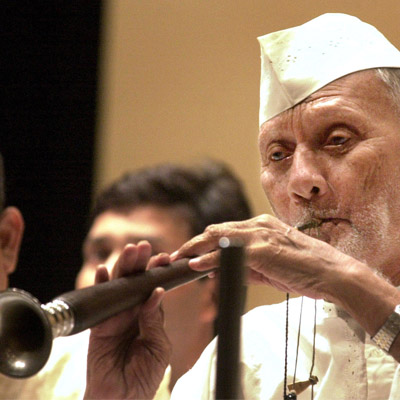 It is the 98th birth anniversary of the shehnai maestro Ustad Bismillah Khan today. Bismillah Khan was born on March 21, 1916 in Durmaon, Bihar. He came from a musical background. His forefathers were court musicians to princely states of Bhojpur and his father was a shehnai player in the court of Maharaja Keshav Prasad Singh of Dumraon. He received training from his uncle Ali Baksh 'Vilayatu' who was a shehnai player at Varanasi's Vishwanath temple. He moved to 'Benaras' was fondly attached to the city and river Ganga.
Ustad Bismillah Khan is credited with upraising shehnai as an instrument played in traditional ceremonies, especially the weddings, to the one played on concert stages. His concert at the Calcutta All India Music Conference in 1937 brought shehnai into the spotlight. He had the honour of performing at Delhi's Red Fort on the eve of India's Independence on 15th August, 1947. He even performed Raga Kafi on the occasion of India's first Republic Day ceremony on 26th January, 1950 at the Red Fort.
India received the most valued treasure of Indian classical music in the form of Bismillah Khan. The legend was awarded all the four top civilian awards namely Bharat Ratna, Padma Bhushan, Padma Vibhushan and Padma Shri. He was an iconic shehnai player who brought shehnai to the centre-stage of Indian classical music.
Ustad Bismillah Khan breathed his last on August 21, 2006 due to cardiac arrest. His shehnai was buried with him in his grave. Though he is no more with us, his mesmerizing music will remain alive in the hearts of Indians forever.

For the connoisseurs of Indian classical music, here is a list of some famous and amazing ragas of Ustad Bismillah Khan:
Raga Yaman
Raga Bairagi Bhairavi
Raga Bhimpalasi
Raga Todi
Raga Bhairavi