Four bodies recovered after Beas tragedy; three officials of hydropower plant suspended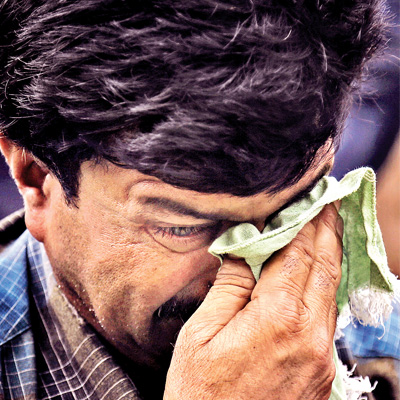 Four bodies were recovered on Monday even as a probe was ordered into how water was released from a Himachal Pradesh dam, leading to the drowning of 24 students who were on an excursion on Sunday.
Three officials of the Larji Hydropwer Plant — resident engineer Mandeep Singh, executive engineer NS Dhatiwalia and fitter Harbans Singh — were placed under suspension for negligence. Himachal Pradesh chief minister Virbhadra Singh, who visited the site on Monday, said a probe had been ordered, and sought registration of a case of negligence against the plant's officials. "If negligence is found on anyone's part, suitable action will be taken," said Singh.
The suspension came a day after 25 people (24 students and a teacher) from the VNR Vignana Jyothi College of Engineering and Technology, Hyderabad were washed away by a wall of water in the Beas river in Manali, at about 7.30pm on Sunday. More than 60 students and faculty members, split in two groups, were on an excursion to the tourist resort of Manali. One group was getting themselves photographed on the banks of the river when they were washed away as the water in the river apparently surged without notice/warning.
Expert divers from the Disaster Action Force, ITBP and Bhakhra Beas Management Board (BBMB) were scouring the river bed for the missing on Monday, but possibility of finding survivors appeared to be slim. Earlier on Monday, they had recovered four bodies from Pandoh dam; the bodies of Akula Vijetha, Banothu Rambabu, Gampala Aishwarya and Lakshmi Gayathri Appanabhotla were being brought to Hyderabad by a special air force flight, according to Telangana home minister Naini Narasimha Reddy.
HRD minister Smriti Irani visited the site, and said the Centre would provide the required assistance. Andhra Pradesh chief minister Chandrababu Naidu said arrangements were being made to facilitate information and the transit of families to Manali. AP resident commissioner in New Delhi, Shashank Goel, said that parents of 15 missing students had reached Mandi. "Four senior officials, two in Himachal Pradesh and two officers at Delhi Airport, are co-ordinating the rescue operation with the state government and helping the parents," said Goel.
Grieving parents and angry families gathered at the college's campus at Bachupally, 25km from Hyderabad, and at the Shamshabad International Airport, awaiting information about their wards. "We came in the night after hearing about the incident. There is no one here other than a security guard and he doesn't know anything," said an exhausted Basawaraj Sandeep, the uncle of one of the missing students outside the VNR college campus. "How can a college send students on an industrial tour and let them wander into a dangerous situation."
A spokesperson for the college said that three teachers had tried to prevent the students from going close to water. At the airport, many parents insisted on traveling with Telangana home minister Naini Narasimha Reddy, who managed to make provisions for 15 parents on the same Air India flight in which he was travelling. "Why can't they take us instead of officials? We are worried about our children," said Anuradha Reddy, mother of D. Srinidhi, one of the 24 missing students.
The 21-year-old resident of Rekurthi village in Karimnagar district had just gotten her picture clicked, sent it to her father and happily chatted with him on the phone just minutes before the water in the river swelled and swallowed her alongwith her classmates. Within hours, her father, Raja Reddy, was shocked to learn of the tragedy.
One of the students who survived, P Lavanya, recounted that the students were sitting on rocks to pose for photos. "There was a big rock in the middle of the river and everyone wanted to reach the top of that rock. Some made their way to it by stepping on a series of small rocks. I was little slow in following them and noticed the rising water level," she said. "Although I started shouting, they did not hear me and soon it was water every where. There was no trace of my friends. Since I was on the edge, I ran back and one of the teachers pulled me to safety."
Still missing
1) Ashish Mantha
2) Bairineni Ritwik
3) Dasari Srinidhi
4) Devasish Bose
5) Baswraj Sandeep
6) Gonoor Arvind Kumar
7) Kalluri Sree Harsha
8) Kasarla Rishitha Reddy
9) M Siva Prakash Verma
10) M Vishnuvardhan Reddy
11) Macharla Akhil
12) Mittapelli Akhil
13) Muppidi Kiran Kumar
14) Nerudu Jagadish Mudiraj
15) P Venkata Durga Tarun
16) MD Sabir Hussain Shaik
17) P Ridhima
18) B Mahen Sai Raj
19) T Upender
20) CH Parameshwar
21) Prahlad (Co-tour leader)