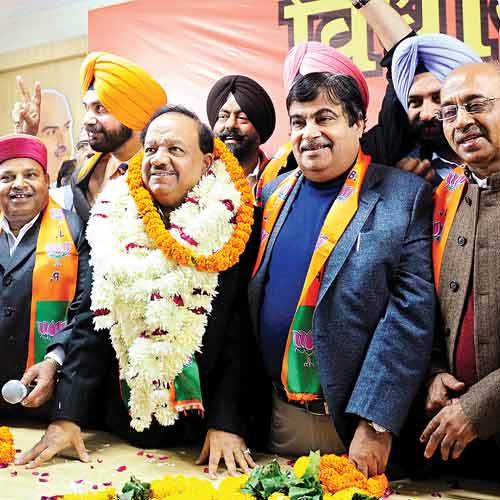 Brushing aside erstwhile Team Anna member Kiran Bedi's suggestion of collaboration with the BJP and the Congress party's indications of support to the new party, AAP leader Arvind Kejriwal on Tuesday reiterated that his party would neither support anyone nor take anyone's support to form government in Delhi.
He also rejected his party colleague Prashant Bhushan's comments to a TV channel that in case the BJP is ready to pass the Aam Aadmi Party's promise of Jan Lokpal Bill and Swaraj they could consider supporting the BJP. Kejriwal said, "What Bhushan said last night is his personal opinion. He was with us this morning for a meeting."
He said, "We will neither support anybody nor seek support. There is no question of support to the BJP. The BJP has got the mandate as the largest party. Why does it not form the government with the Congress?" He further said the AAP would contest in the 2014 Lok Sabha elections too.
During the day, Bhushan also clarified that what he said was taken out of context. "What I said was in a rhetorical way. I meant that if the BJP becomes like the AAP and does those things which the AAP has been formed for and AAP believes in, then we can think of supporting them. But this is not possible because these parties can never become like the AAP," Bhushan said.
Meanwhile, a senior AAP leader told dna that party volunteers and leaders "are quite excited with the prospect of a re-poll as they are confident that re-election would mean full majority for the AAP."
"Not just the Congress, even the BJP will suffer a blow. The AAP got 28 seats and finished runner up on around 20 seats. People of Delhi are aware of what they can get from clean and honest politics and they will not waste the chance," the leader told dna.
On Monday, Kiran Bedi had suggested that the BJP and the AAP should come together to form the government in the national capital. "Why can't they (BJP and AAP) sit down together and explore an option of a common minimum programme. They both are looking at similar solutions (to Delhi's problems). The elders of both the parties should just sit down together," said Bedi.
AAP dismisses charge against MLA
New Delhi: Arvind Kejriwal on Tuesday termed as 'totally wrong' the allegations against its party MLA Dharmendra Singh Koli that he molested a Congress candidate's wife, but said the legislator has been issued a warning for taking out a victory march in violation of the party's direction.