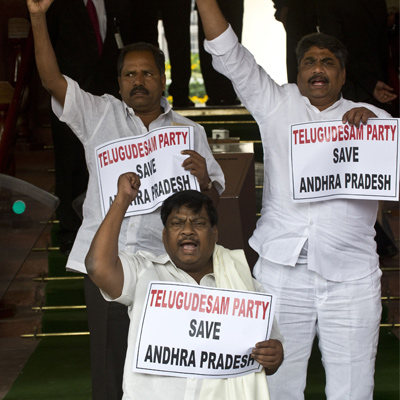 The Telangana Bill will be taken up for discussion in the Lok Sabha today.
The Bill has been mentioned in today's business list.
Talking to reporters here yesterday, Parliamentary Affairs Minister Kamal Nath said that those, who want to oppose the bill, can do so in a parliamentary manner. Meanwhile, the Congress has issued a whip to its members to be present throughout week.
The government recently approved the creation of Telangana, a move that has revived deep political divisions in Andhra Pradesh and raised fears of violence in the area between pro and anti Telangana groups.
Earlier, the parliament erupted in mayhem when a lawmaker fired pepper spray in the House in protest against the Telangana Bill, which left lawmakers coughing, sneezing and holding scarves to their faces. The agitated protesters also broke a glass table and broke an official's microphone.
The furor erupted after Home Minister Sushil Kumar Shinde rose to table the bill.
The state assembly of Andhra Pradesh had earlier rejected the draft Bill to create a separate Telangana state.