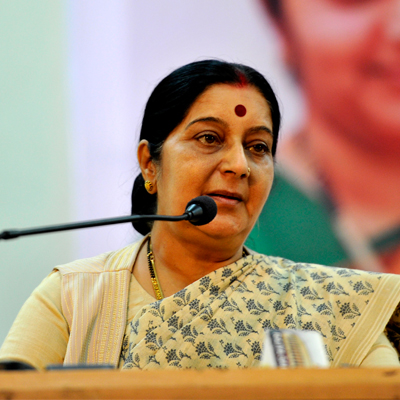 After being sworn in as a minister in the new government on Monday, May 26, Sushma Swaraj took charge of her office as India's minister of external affairs on Wednesday, and made positive statements about the country's relations with other nations.
"My priority will be to showcase our strengths to the world and improve ties with neighbouring countries, strategic partners, Africa, Europe and others," Swaraj said at a press conference on Wednesday.
She also revealed details about Modi's meeting with the heads of government of South Asian Association for Regional Cooperation (SAARC)​ countries. In a statement made during the press conference, Swaraj said,"I think talks with SAARC leaders were successful."
With Pakistan, Swaraj said Modi expressed that India wants good relations with our neighbour, but these can be successful provided terror activities stop. Modi also asked for a speedy trial of the 26/11 accused who reside in Pakistan. That apart, Modi also raised the Tamil fishermen and 13th amendment issue with Mahinda Rajapaksa.
When asked about Japan and the United States, and whether India's ties with the former were becoming more important than those with the latter, Swaraj said the ties with the two countries could not be compared with each other.
One of the veterans in the political arena, Swaraj has previously held many positions like Union Health Minister and union Minister for I&B and Telecommunication.