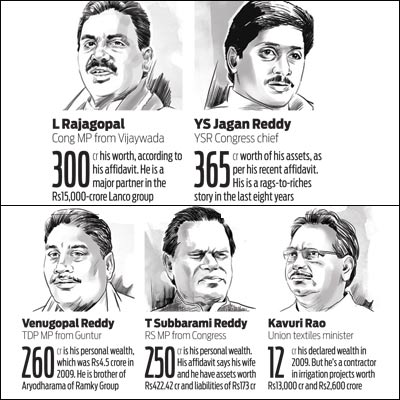 When the pepper spray was used for the first time inside the House by Seemandhra MP, Lagadapati Rajgopal, it was of course the low-point in the history of Parliament. it also brought into focus another glaring anomaly in India's parliamentary democracy. How power is concentrated in the hands of a few. Most of the Andhra Pradesh MPs who are the main players in the Telangana versus Seemandhra fight have amassed enormous wealth in a short time. This wealth is also the reason why many Seemandhra MPs are fighting the creation of Telangana tooth and nail because most of their assets are situated in Telangana and they stand to lose much.
Here are short sketches of the super rich MPs who are not likely to stop with pepper sprays.
Lagadapati Rajagopal
The Vijayawada Congress MP is a major partner in the Rs15,000 crore Lanco group which runs a power plant, Lanco Infrastructure SEZ, sponge iron, and is also engaged in film making.
According to the affidavit he filed along with his nomination papers, Lagadapati Rajagopal, Vijayawada Congress MP of Pepper spray fame, is worth Rs300 crore . He has movable assets of Rs900 million (Rs90 crore) and immovable assets of Rs140 million (Rs14 crore). He also has foreign assets of $36.14 million (Rs1.8 billion).
Rajagopal, former chairman of Lanco Group of Companies, and his wife L Padma together own movable and immovable assets worth Rs2.99 billion.
Rajagopal's wife L Padma has movable and immovable assets of Rs141 million (Rs14.1 crore). The Congress leader also has bonds and shares worth Rs828.2 million (Rs82.82 crore) in various companies. His assets include houses and apartments in Hyderabad worth Rs133.5 million (Rs13.35 crore), seven vehicles worth Rs35.6 million (Rs3.56 crore), 7,220gm gold worth Rs17 million (Rs1.70 crore), and agricultural land worth Rs7.02 million (Rs70.2 lakh). He owes Rs59.1 million (Rs5.91 crore) to different banks.
YS Jaganmohan Reddy
The son of former CM YS Rajasekhar Reddy is known for his Sakshi TV, Sakshi Newspaper and other ventures in hydel power, cement, infrastructure and also IT projects.
In his latest election affidavit of 2013, he declared a personal wealth of Rs365 crore
Jagan a matriculate-turned-business magnate of AP is a rags-to-riches story for Jagan in the last eight years. His assets had grown multi-fold during this period. As per the income tax returns submitted by his father YS Rajasekhara Reddy before 2004 elections, the assets in the name of Jagan, who was then yet to enter politics, were worth just Rs9.18 lakh. The total value of family assets declared by YSR during the 2004 elections was only Rs50 lakh.
During 2008-09, Jagan had paid Rs2.92 lakh tax for the entire financial year. While entering the electoral battle for the first time in April 2009, Jagan had declared that he possessed assets worth Rs77.40 crore, including Rs21 crore as part of his share in the ancestral property, including agriculture and non-agriculture lands at Idupulapaya and Kadapa, besides houses in Hyderabad, as inherited from his father YSR.
It is said that Jagan had built huge palaces in Bangalore, Hyderabad and also Kadapa and his home town of Pulivendula. His palace in Bangalore is worth Rs150 crore, the one in Hyderabad is worth Rs2,110 crore and finally that of Kadapa is Rs30 crore . The CBI in its affidavit has charged him of receiving bribes of Rs1,234 crore as QED bribes from all those who received govt gratis during his fathers regime.
By May 2011, when he contested the by-elections to Kadapa Lok Sabha seat, he declared his assets before the Election Commission valuing at Rs365 crore, besides another Rs41.33 crore in the name of his wife Y Bharati.
MV Venugopal Reddy,
Venugopala Reddy is a TDP MP from the rice and tobacco bowl of Guntur district. His declared personal wealth was Rs4.5 crore in 2009 but now he is said to be worth over Rs260 crore.
He is brother of the Aryodharama Reddy of Ramky group of companies with interests in power, infrastructure and SEZ. He is a bachelor of engineering. The Modugulas have two big irrigation projects in Telangana. He is closely working with YS Jaganmohan Reddy in some irrigation projects in Himachal Pradesh and also in the North East.
Modugula is a rich agriculture family in coastal Andhra district of Guntur and has very huge land interests and are into civil contract for generations.
T Suibbarami Reddy
Tikkavarapu Subbarami Reddy is one of the richest Nellore Reddys. He is the brother of the T Chandrasekhar Reddy, former MP and owner of Deccan Chronicle. Now he is also related to GV Krishna Reddy of GVK group through marriage of his daughter with Sanjay Reddy with GVK's son.
TSR, as he is popularly known, has declared a personal wealth of net assets worth nearly Rs250 crore. According to affidavits filed in the last RS polls early this month (his second term as RS member), Subbarami Reddy, and his wife, Indira, have assets worth Rs422.42 crore and liabilities worth about Rs173.58 crore taking the couple's net worth to about Rs248 crore.
T Subbarami Reddy is popular in the film industry for his films on Ramanuja and is also very rich in real estate assets at Mumbai, Bangalore, Chennai and Delhi. His industrial group of companies is Gayatri which is into power, constructions, IT and also chemicals
Kavuri Sambashiv Rao
Kavuri Sambashiv Rao is one of the biggest real estate sharks of Hyderabad and coastal Andhra. His progressive Constructions is one of the 28 top construction companies in the country. His son-in-law runs the biggest corporate hospital - Medinova - in the state.
In his last election affidavit, Kavuri had declared a wealth of just Rs12 crore in 2009. Former MP from Machilipatnam, he is now from Eluru parliament seat of West Godavari district. He is also a minister in the UPA govt. Kavuri is also a big contractor in several big irrigation projects worth over Rs13,000 crore in the Jalayagnam projects in the state including two prominent projects of Pranahita-chevella in Telangana and Polavaram in Seemandhra worth Rs2,600 crore.
The World Bank debarred Raos PCL in 2013 in connection with numerous fraudulent documents misrepresenting the company's use of mobilisation and material advances in the Lucknow-Muzaffarpur National Highway project.