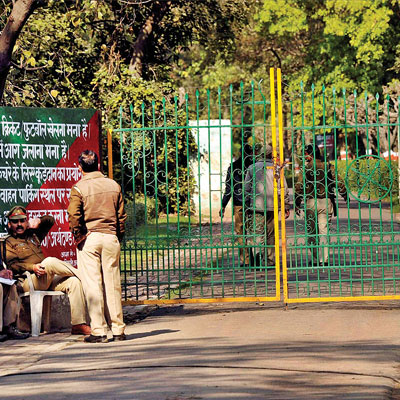 Sahara Group chief Subrata Roy is getting VIP treatment even after his arrest for an alleged fraud of Rs24,000 crore. He was arrested on Friday on a non-bailable warrant issued by the Supreme Court. Later, the chief judicial magistrate sent him to police custody till March 4 when he is to be produced before the apex court which is hearing the case.
Legal experts feel a friendly state government has ensured "preferential" treatment for Roy while a normal person in the same situation would have been behind bars in a police lock up. Even Lucknow SSP Praveen Kumar said Roy was "not in police custody but under police observation".
"Saharashri", as he is known to his employees, was taken straight to the VIP guest house of the UP Forest Department situated in the salubrious environs of the Kukrail picnic spot, about 15 km away from the heart of the city. Kukrail is a quiet and beautiful forest area away from the hustle-bustle of the state capital with no noise or air pollution and no traffic.
In fact, the entire Kukrail area was kept off-limits for visitors and tourists on Saturday due to the VIP visitor's sojourn. As a result, the picnic spot which is normally agog with numerous families and children during the week-ends, bore a forlorn look on Saturday. Only the high-end cars of the Sahara Group carrying VIP visitors and top Sahara officials and lawyers were allowed to enter the Kukrail gates.
A rather peeved Lucknow police official said it seemed the entire guest house and the surrounding area had been converted into a "mini Sahara city" while the cops on duty had been reduced to mere spectators. Sources confirmed that Roy was getting home-made food of his choice, and even UPFD personnel posted at the picnic spot were at the beck and call of Sahara officials, obviously due to instructions from the top echelons of the state government.
"This is a brazen example of preferential treatment," said retired judge CB Pande. He said if Roy had been handed over to police custody, he should have been kept at a police facility not at a VIP guest house. He scoffed at the Lucknow SSP's statement that Roy was under "police observation" saying there is no such term in the Cr PC (Criminal Penal Code).
Senior high court advocate IB Singh also agreed that Roy had been given preferential treatment. "If I had been in his place, I would have been in a police lock up," he said. However, he added that Roy was not an accused yet in any criminal case and the court's intention behind issuing the NBW was only to ensure his presence in the court on a particular day.