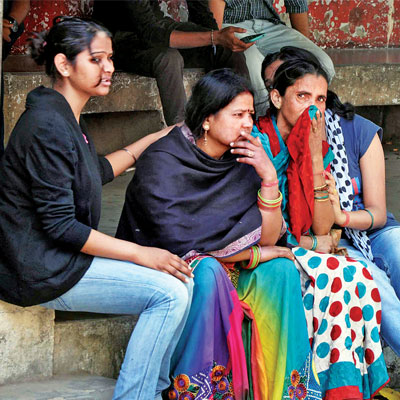 The death of three students in a motorbike accident inside the JNU campus has once again brought the varsity, known for its intellectual ambiance (with political debates and open seminars) into focus, and for not-so-good reason.
After a sex scandal, which rocked the varsity in February 2013, there was the recent murder of a girl by her classmate. On Friday, around 2.30am, three students were killed while doing stunts on a motorbike.
All three were pursuing a master's in Korean language and stayed in hostels. Ravi Singh Chaudhary (22), Ravi Shankar Gupta (22) and Santosh (22) died when their CBZ bike first collided into a divider and then rammed into a tree.
The three were rushed to a hospital but none survived. Ravi Chaudhary and Ravi Shankar were from Gaya district of Bihar. Santosh was from Ranchi. The three were bright students; Chaudhary was the class topper, and had represented his department in speech competition in Kuala Lumpur, Vietnam and Thailand. Chaudhary and Santosh had even visited Korea on scholarships as well.
The incident has shaken the university and the subsequent media glare has added to its embarrassment. "I don't know how it happened. But Ravi (Chuadhary) left the hostel on his bike at around 2am. I was not surprised. I can't say whether they were performing stunts or it was just a mishap that happened," said a student of Tapti hostel.
The police have lodged a case of accidental death but investigations are on. According to the police, prima-facie evidence shows the bike was speeding. "One of them died on the spot while the other two succumbed to their wounds in hospital. All three had severe head injuries," said a police official.
The university authorities remained tight-lipped.
Students who have been studying in the university for more than five years are not only saddened by the deaths, they also worry about the university's future. "Half a decade ago, the university was not like this.
Students used to gather and discuss serious issues that affected the nation. Seminars and debates still happen but the newcomers have fallen prey to adventure and fun, which has marred the university's reputation," said Ajit Jha, a PhD student.