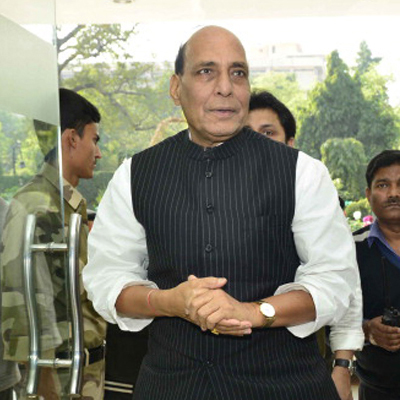 Hitting out at SP and BSP, BJP national president Rajnath Singh on Saturday accused the two parties of being equally responsible for increasing inflation, corruption and unemployment in the country along with Congress-led UPA government by giving it outside support.
"SP and BSP extended outside support to Congress-led UPA government at the Centre continuously for 10 years. They are equally responsible for inflation, corruption and unemployment," Rajnath said while addressing an election meeting at Gomti Nagar here.
Accusing SP and BSP of cheating the people of the state, the BJP president said the two parties fight in Uttar Pradesh, but run the government at Delhi together.
He alleged that scams worth Rs 5.5 lakh crore were committed during 10 years rule of UPA government and despite knowing this, SP and BSP continued their support to it.
The country is facing severe crisis and can only be rescued by the power of vote, he said.
Hitting out at Congress President Sonia Gandhi, he said: "When the UPA formed the government in 2004, Sonia Gandhi relinquished the post of PM, but Sanjay Baru's book 'The Accidental Prime Minister' has now revealed that she was the one actually running the government from 10 Janpath".