Embarrassing the party further, minister alleges that media was paid by Modi.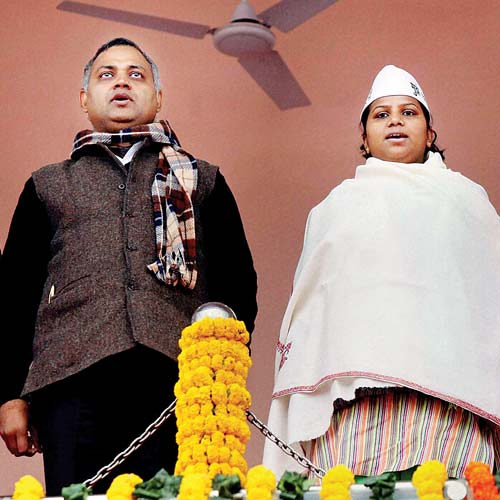 There seems to be no end to the AAP's woes as every new day is bringing a new embarrassing incident involving Delhi law minister Somnath Bharti who has apparently become an albatross around party's neck.
On Saturday, when a reporter asked him whether he would resign from minister's post, a baffled Bharti retorted: "How much money were you paid by Modi ji?"
He was criticised and pulled up by the party, including chief minister Arvind Kejriwal who said it "was extremely wrong on the part of Bharti to have said something like this to the media and he should not have said this."
The AAP is extremely uncomfortable with Bharti's embarrassing utterances every-day. A founder-member of the AAP, who is now a member of party's political affairs committee, has also voiced his dissent against Bharti. "The AAP now knows Bharti is liability. Prashant Bhushan who is an important voice in the AAP has clearly told the party about his reservations about Bharti's conduct," sources said.
Bharti also slammed the Delhi Commission for Women (DCW) chief and former Congress MLA Barkha Singh, accusing her of acting against him due to political reasons. "Barkha Singh is a Congress member. She should have resigned herself after her government's term ended. All allegations against me are false. It's a conspiracy to defame me," said Bharti.
However, Bharti under pressure from party later apologised and stated that he was misinterpreted. "I did not mean that. I apologize if the remarks have hurt anyone. I did not want to say what is being misinterpreted by everyone although, if anyone has been hurt by my statement, I apologize for that," Bharti said.
"The media is our friend, but they should also report my good deeds and actions. I respect the media, and will always fight for its independence," Bharti added.
On Friday, the Delhi Commission For Women (DCW) had summoned Bharti who instead of coming, sent his lawyer. However, the DCW did not entertain Bharti's lawyers who promised the Commission that the law minister will present himself before them on Monday.
The DCW is looking into case of alleged misbehaviour with Ugandan women and African nationals in Khirki extension area where Bharti had led a mob on pretext of a raid on an alleged drug and prostitution ring running in the area.
Meanwhile, the DCW has decided to meet lieutenant governor Najeeb Jung on Monday demanding immediate sacking of Bharti and registration of FIR against him.
The DCW would also communicate with Ugandan embassy in the capital and inform them about the complaints of its nationals and problems faced by them here. As per the victims, Uganda embassy officials have not got in touch with them as of now.
"We have compiled the report. And also made a formal complaint of how lawyers of Mr Bharti misbehaved with me on Friday. We would hopefully meet LG on Monday and apprise him about everything," chairperson DCW, Barkha Singh, told dna. She further stated that DCW will also communicate with Ugandan Embassy and inform them about the complaints made by the victims.