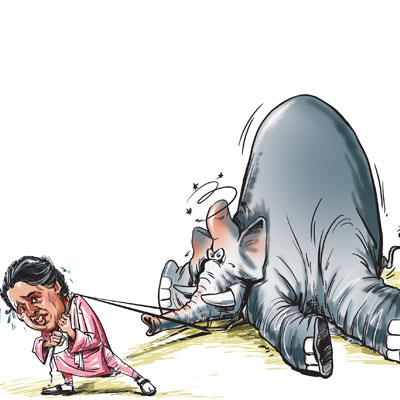 A landslide victory for the Bharatiya Janata Party (BJP) and a rout for the ruling Samajwadi Party (SP) and the Congress in Uttar Pradesh may have been expected by some political analysts but what no one would have foreseen is the shocking and complete decimation of the Bahujan Samaj Party (BSP) whose tally has been reduced to zero. That is a development which promises to completely alter the way the game of electoral politics is played out in UP.
What that means, for practical purposes, is that the BSP will lose its "national party" status with the Election Commission, and there would not be a single BSP MP in the 543-member Lok Sabha. That is indeed quite embarrassing. And in fact, shameful for Dalit icon Mayawati, who has been a four-time chief minister of the country's most populous state other than being the party leader. BSP insiders say 'behenji' has isolated herself in her sprawling bungalow and is completely incommunicado, apparently in mourning, reworking strategies or just figuring out what went wrong.
"It is high time she quit moving around like the Queen of England," said a senior journalist, cut up with Mayawati for not granting any interviews throughout the campaign. "You can no longer cut out media from your scheme of things in an election. Her hubris has finally gotten the better of her. I hope she learns a lesson now."
Along with the BSP, the SP has also been reduced to MPs from the illustrious Yadav family only. The SP's OBC votebank and the BSP's Dalit votebank, both ditched them, respectively. While the OBCs feel slighted as all benefits meant for them are being cornered by just one caste (Yadavs), the Dalits have apparently taken revenge for being taken for granted for too long.
Mayawati's so-called "social engineering" has essentially meant giving pride of place to upper castes (read: Brahmins) as signified by the omnipotent position her Man Friday, Satish Chandra Mishra, holds in the BSP. Besides, Mayawati supporters, be it Dalits or others, saw the way she flaunted her aggrandisement with big bungalows in Lucknow, Delhi and Badalpur (her parental village in Ghaziabad). Her obsession with putting up her own larger-than-life statues and squandering crores on memorials and parks also did not in any way raise her political stature or popularity.
Meanwhile, what seems to have contributed to the SP's apologetic tally despite being in power is the complete lack of performance by the Akhilesh Yadav regime. It has become clear that there are too many power centres in Lucknow, and Akhilesh has been reduced to a rubber-stamp CM, whose hand is forced by either his dad, or his uncles or senior leaders and ministers close to Mulayam.
There is a clear lesson for both the SP and the BSP in this severe defeat — that the politics of caste and community will no longer work. Mayawati and Mulayam will have to redesign their political strategies around good governance, development and economic upliftment of the common people.