The social media account of the Minister of State for HRD was hacked and had been sending vague tweets tagging a Pakistani writer
Indian minister Shashi Tharoor's Twitter account had been under attack by unknown hackers.
Tharoor, who is also very popular on the micro-blogging site, tweeted to a certain Mehr Tarar stating, mehr"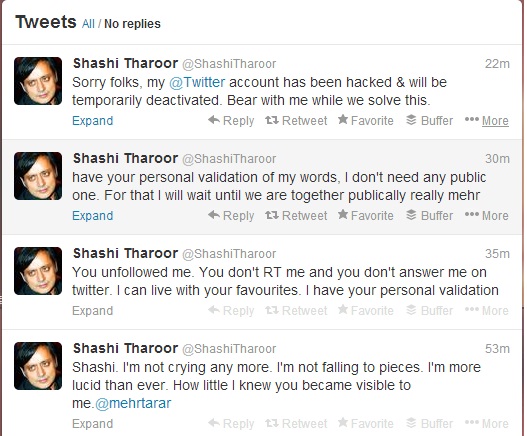 A much confused Mehr, who's profile states that she is writer from Pakistan, replied quickly.
Okay. What's going on? Who's tweeting to me? I had an 'affair' with Shashi Tharoor and he's tweeting to me??? How does that work?

— Mehr Tarar (@MehrTarar) January 15, 2014
It didn't take very long for the Indian political personality to identify the security lapse and put out and official apology:
Sorry folks, my @Twitter account has been hacked & will be temporarily deactivated. Bear with me while we solve this.

— Shashi Tharoor (@ShashiTharoor) January 15, 2014
Mehr, too, replied asking Twitter India to look into the matter, and terming the incident as "very sick".
I know Shashi T& respect him greatly. Hv tweeted/written abt it openly.Feel awful abt wht's being tweeted. Maybe @TwitterIndia shld check?

— Mehr Tarar (@MehrTarar) January 15, 2014
Twitter is crazy today. The downside of technology. Sorry guys, can't respond any more. Not funny at all. It's all very, very sick.

— Mehr Tarar (@MehrTarar) January 15, 2014