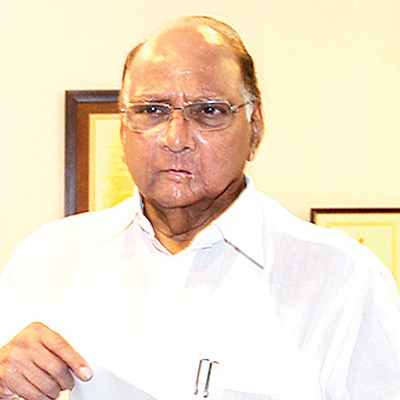 Sharad Pawar said on Sunday that he is not keen to return to state politics and in what may be seen as a snub to nephew Ajit Pawar he rejected the proposal that the Nationalist Congress Party (NCP) put forward a chief ministerial candidate in the forthcoming state assembly elections.
Addressing a party meeting attended by office-bearers and ministers to mark the 15th Foundation Day of the NCP, Pawar referred to the party's poor performance in the recent Lok Sabha elections saying activists should not lose heart as people voted differently in the Lok Sabha polls and the assembly elections.
He pointed to the unease in the trading community over the new local body tax that is to replace octroi, the demand for quotas by social groups like the Marathas and power disruptions as big issues that required to be resolved collectively.\
"There is no need for unnecessary discussion. There is a principle of collective leadership. We will go to the people collectively... when people vote, the one who is elected has the opportunity to rule in a democratic manner," Pawar said.
The leadership issue is a big one in the NCP where Ajit Pawar's supporters are keen to project him as the party's chief ministerial nominee.
"The distance between the activists and the people is increasing. The distance between the leaders and the workers is increasing even more," he remarked. This was acknowledged by the delegates with clapping. "We must do away with these deficiences, (otherwise) people will teach us a lesson," he warned.
About himself, Pawar said, "I am doing well (in Delhi)". The NCP chief, who has been chief minister of the state on four occasions, said he was most happy when not in government. He said this gave him time to travel and meet people.
"There can be no compromise on solving problems relating to power supply and LBT," Pawar said. He said the party must also pay attention to issues like scholarships for OBC students, reservations in jobs and education for Muslims and Marathas and the demands of social sections like Dhangars (shepherds) and Lingayats (Veershaivas).