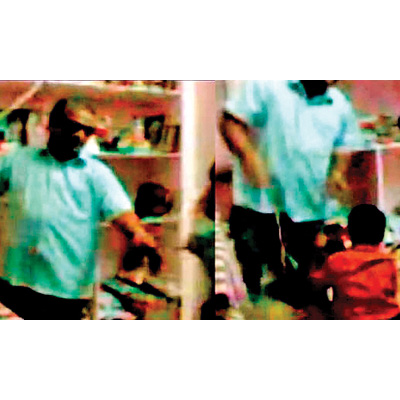 In a horrific incident, principal and secretary of a blind school thrashed three visually challenged students for allegedly being undisciplined. Srinivasulu, principal of Greenfields School for the Blind at Timmapuram on the outskirts of port town of Kakinada in East Godavari district, and its secretary, KV Rao have been arrested for the same.
The incident, which took place two days back, came to light on Monday after local TV channels showed a footage of the incident in which the principal was purportedly shown mercilessly beating up the boys.
While the principal had held the boys by hair, the secretary of the school was thrashing them with cane. The footage also showed the principal pushing one of the boys to the wall and was seen assisted by another person in the act. KV Rao is also visually challenged while Srinivasulu is partially visually challenged. The students were identified as Sai, Surendra and Joseph.
District collector Neetu Kumar Prasad said she has ordered a detailed investigation into the issue. "I have seen the visuals. It is a heinous crime and the government has decided to take over this private school for blind," she said.
Angry parents of the children and social activists staged protests in front of the school after Telugu new channels aired the video clipping of the incident. Some of the agitated parents entered the school premises, ransacked the furniture and manhandled KV Rao demanding action against the school management.
District educational officer KV Srinivasulu Reddy rushed to the spot and conducted an inquiry into the incident. Following a complaint from the DEO, Sarpavaram Police arrested the secretary of the school and principal. A case has been registered and investigation is on.