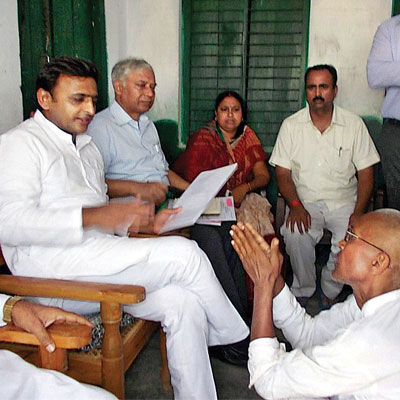 Two days after a minor Dalit girl was raped, murdered and hanged from a tree in Misrikh area of Sitapur district, no arrest has been made in the case yet, despite the fact that all five accused belong to the Benipur village where the incident happened, and have been named in the FIR.
After Akhilesh Yadav's insensitive comments on the steep rise in increase in rape cases in UP on Tuesday, his father Samajwadi Party chief Mulayam Singh Yadav also appeared indifferent to the issue on Wednesday. Questioned by reporters here, he said: "You do your job, I will do mine."
Not to be left far behind was Akhilesh's uncle and SP's Rajya Sabha MP Ram Gopal Yadav, who said obscene and vulgar content being showed on television was corrupting the mentality of youngsters which had resulted in the sudden upswing in the rape incidents. "Young boys also have easy access to magazines with pornographic material and pictures," he added.
Casually dismissing reporters' questions about the deteriorating law and order situation in UP, he said the state government was doing a good job, and quick and severe action was being taken against those involved in crimes, especially in rape cases.
"A much larger number of rapes are being committed in neighbouring states like Delhi, Madhya Pradesh and Rajasthan. In the north-east states, the incidence of rape in many times higher than in UP. But the media doesn't report that," he said.
On Tuesday, Akhilesh Yadav had also blamed the media for unduly hyping up the rape incidents in UP. "Rapes are not happening only in UP," he had said, and added: "If you search on Google, you will find many rape incidents in other states, too."
Meanwhile, whatever the SP leaders might say, the cases of rape in the state show no signs of abating. On Wednesday, too, four cases of rape were reported. While a young student was kidnapped and gang-raped in Pratapgarh, a minor girl was raped at gunpoint in Sambhal in west UP. A woman admitted in a hospital in Dhoomanganj area of Allahabad was raped and a six-year-old girl was raped by her cousin in Khukhundu area of Deoria.