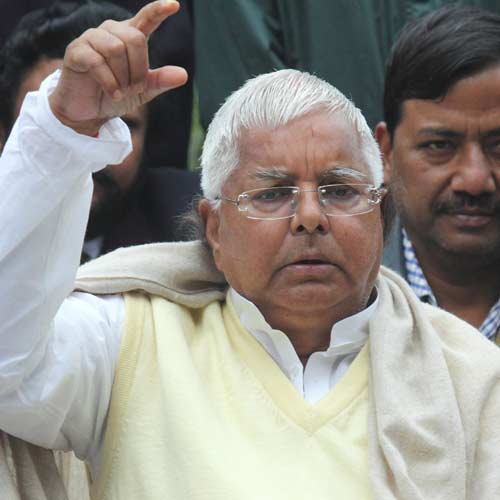 Rashtriya Janata Dal (RJD) chief, Lalu Prasad Yadav on Saturday, stated that his party was keeping a close watch on the unfolding situation in Bihar following chief minister, Nitish Kumar's resignation.
While speaking at a press conference on the eve of his bête-noire Nitish Kumar resigning owning up moral responsibility for his party's poor show in the recently concluded Lok Sabha polls Lalu Prasad said "We are closely watching the unfolding situation. He (Nitish Kumar) has talked about moral responsibility. We are looking at the developments, will see what happens, can't say much right now."
"He has majority, although he has excused himself by taking moral responsibility (for the defeat in Lok Sabha polls) and hence he has resigned. It is now the duty of the Governor what needs to be done," he added.
Kumar decided to step down from his post on Saturday afternoon after several ministers and Janata Dal (United) members of the legislative assembly squarely blamed him for the defeat of the party in the 2014 general elections.
Kumar had submitted his resignation to Bihar Governor Dr. D.Y. Patil.
After submitting the resignation in a press conference, Kumar told the press that he quit from his post owning up full responsibility for the party's poor show and ruled out dissolving the Bihar Assembly.
"I was leading Bihar's election campaign and I accept the responsibility for the defeat and which I should accept. It won't be wrong to say that this election was based on personal remark, allegations and counter-allegations, which I haven't seen in my entire political life. We had sought mandate based on our work, but could not see favourable results in our favour and therefore I am taking full responsibility on this defeat and hence, I have tendered my resignation to the Governor," Kumar said this at a press conference.
He made it aptly clear that he is personally resigning from his post and that there was ample scope for a new person to discharge the functions as chief minister of the Government that he was running without dissolving the assembly.
"I want to make it clear that I have just resigned and from the council of ministers, have not sought dissolution of the Assembly. There is no issue of majority, the government can continue if we want, I have resigned taking responsibility of Lok Sabha loss," Kumar said.
Earlier on Saturday, internal bickerings surfaced within the JD-U, particularly over Kumar's decision to cut 17-year-long ties with the BJP last year, and this forced Kumar to consider submitting his resignation.
On Friday, in a terse statement, Kumar said that he "respected the mandate of the people" in favour of the Bharatiya Janata Party (BJP).
In an election where the BJP and JD(U) fought separately after their political divorce in 2013 over projecting Narendra Modi as the prime ministerial nominee of the BJP-led NDA, Nitish Kumar's party could win just two seats.
The JD-U Government is already in a minority in the Bihar State Assembly.
Kumar had been in power for the last nine years.