Expelled MLA Vinod Binny leads revolt against Kejriwal, claims support of two party MLAs.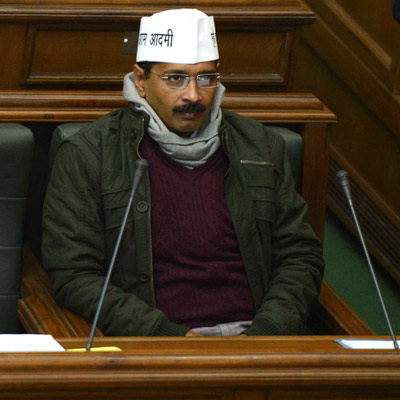 Vinod Kumar Binny, who was expelled from the AAP, is mounting a serious effort to bring down the Arvind Kejriwal government which is surviving with just a two-vote majority or 38 votes in a house of 72. The government has the backing of 8 Congress MLAs and 2 Independents. AAP now has 27 MLAs minus Binny.
Binny claimed that he was weaning away five MLAs both from within and outside the government in this effort to topple the two-month-old government which came to power on the back of a popular disgruntlement against the Congress government. On Monday, two MLAs, Shoaib Iqbal (JD-U) and Ranbeer Shokeen, who were with Binny on Sunday, said they were not yet withdrawing support, giving the government a fresh lease of life.
The situation may still turn tricky for AAP, if even two of its MLAs turn rebel. Sources in AAP stated that MLA Harish Khanna may go Binny's way. Khanna, a professor in the Delhi University, is close to Binny. He was also a member of Samajwadi Shiksha Manch, a teachers' organisation and an ally with BJP-led teachers' organisation National Democratic Teachers' Front.
AAP, in a bid to demolish the rebel attempt, alleged that BJP is trying to topple AAP government and has been offering its MLAs money. The ruling party even produced MLA Madanlal, who alleged someone closed to Arun Jaitley and Narendra Modi offered him Rs20 crore to rebel. Madanlal, however, did not disclose the name of the person.
Arun Jaitley was quick to categorically rubbish these allegations and dared AAP to disclose the name of the person who offered the bribe.
On Sunday, Binny had led Iqbal Shoaib and Rambeer Shokeen to declare that they will withdraw their support from AAP government, if it did not adhere to their demands within 48 hours. Their demands include 700 litres free water scheme be extended to all the people in Delhi. They also raised the issue of women's safety.
A day later, Shoaib and Rambeer met Delhi CM Arvind Kejriwal and called peace. "He (Kejriwal) has agreed to consider our demands. We are not withdrawing our support from the government," said Shoaib.
To make matters worse for AAP, Congress MLA Asif Mohd Khan had last week stormed a Kejriwal press conference to demand that a Special Investigation Team be formed to have another inquiry into what is known as the Batla House encounter. Various Muslim and human rights groups have been claiming that the encounter in which alleged Delhi bomb blast suspects were killed was staged by the special cell in an apartment called Batla House in a Muslim-dominated area in South Delhi.
It is likely that the AAP government will ride out this storm but it is unlikely that it will last long after the Lok Sabha elections when various alignments and restructuring of present alliances and political fronts will happen.