SP leader promises to change anti-rape legislation if his party comes to power at Centre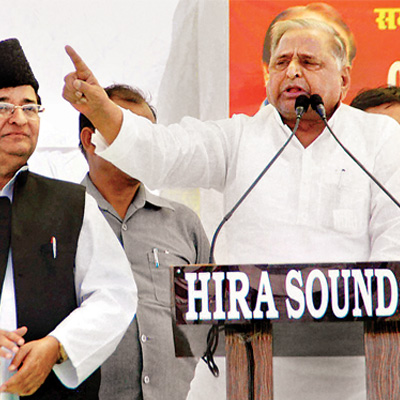 If Mulayam Singh Yadav's Samajwadi Party (SP) were to come to power at the Centre, 'Netaji" would scrap the new anti-rape law which provides for hanging for the horrific crime. Yadav said as much at a party rally at Moradabad on Thursday.
"Rape ke liye phansi par chadha diya jaayega? Ladke, ladke hain. Galti ho jati hai," he said. (Will boys be hanged for rape? Boys are boys. They commit mistakes.) He didn't stop at that and went on to promise that if his party came to power, he would ensure that the law is changed. "Efforts will be made to change such a law, so that those misusing it are punished. Those filing false reports will also be taken to task," he said.
Mulayam made the statement citing the recent example of a court sentencing three men found guilty of gang-raping two women in the abandoned Shakti Mills in Mumbai last year.
The remarks come at a time when the safety and security of women, especially related to rape and physical assaults, is a big election issue. Mulayam's statement has stirred up a huge controversy and is sure to outrage women. Complaints in this regard have already been made to the National Commission for Women (NCW) and the Election Commission.
Yadav also said boys and girls fall in love but due to differences they fall apart later on. "When their friendship ends, the girl complains that she has been raped," he said, stressing the need for changes in the
anti-rape law.
The three accused in the Mumbai Shakti Mills case have been handed the death sentence under a new law that punishes repeat offenders as they were found guilty of gang-raping two women, a photo-journalist and a telephone operator, at the abandoned mill premises.
Yadav has promised in his party's manifesto for the polls to check "the large-scale misuse" of the tougher anti-rape law introduced after the fatal gang-rape of a young woman on a moving bus in Delhi in December, 2012.
In fact, when the new laws were proposed in Parliament, the SP had objected to features including stalking being made a criminal offence, arguing that such provisions could be misused to implicate men in fake cases.
"There is a large scale misuse of laws including anti-dowry, SC/ST (atrocities prevention) act and the new anti-rape law that came into existence after 'Nirbhaya' rape case...SP is in favour of implementing them strictly and at the same time will initiate strict action against those misusing them," says the party's manifesto.