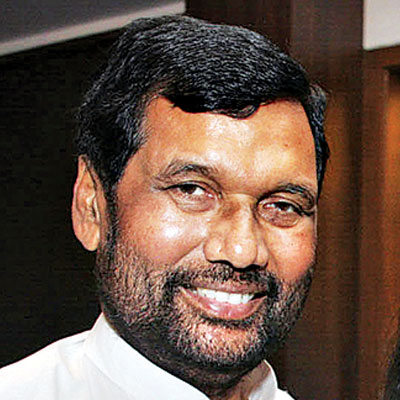 Lok Janshakti Party chief Ram Vilas Paswan, who once positioned himself as the voice of secularism, has initiated talks for partnering with the BJP in Bihar.
Paswan's move, seen as an effort to browbeat both Congress and RJD in the seat-sharing talks which are deadlocked, is purported to be the brainchild of his son Chirag Paswan, and some upper caste leaders in the party, who are keen on allying with BJP.
A source close to the development confirmed that Ram Vilas Paswan is in talks with senior state BJP leaders. "There has been no personal meeting on the matter between the leaders of both the parties. But yes, three days back, Paswan and some senior state BJP leaders discussed about an alliance over phone."
It is the tussle over seat sharing with the Congress party in Bihar, which has disappointed the LJP chief. Differences have emerged on number of seats as well as choice of constituencies in the state between Congress and LJP. The party -- which has its support base among the dalit muslims, apart from paswan caste – wanted to retain at least ten seats in the alliance, while Congress has been insisting on conceding only four in favor of LJP. There are 40 Lok Sabha seats in Bihar.
Another issue facing the month-old alliance between Congress and LJP is choice of constituencies. Paswan wants to secure Jamui and Samastipur for his son Chirag and his younger brother Ramchandra Paswan, respectively. The Congress party, meanwhile, wants its state president Ashok Choudhary to contest from Jamui and field Ashok Ram the former leader of the Congress legislature party from Samastipur.
Political commentator Urmilesh told dna, "This is something Ram Vilas Paswan has been doing. He has a very small base in Bihar. He also realizes that on the basis of only the Paswan votes, he could not make any difference in Bihar."
Sources, meanwhile, point out that his son Chirag Paswan and senior leaders belonging to upper caste in LJP like Suraj Bhan Singh are of the opinion that allying with BJP will be beneficial for the party as the entire upper caste and OBC votes have gravitated towards the BJP in Bihar.
The move, however, is indeed a setback for both Congress and RJD. While Congress leader C P Joshi, who is general secretary in charge of Bihar refused to comment on the matter, RJD chief Lalu Prasad told dna, "I keep telling all the like-minded political leaders to unite against the rise of the communal forces the country. People need to have patience."
Bihar BJP sources, meanwhile, told dna that it will be difficult for the party to concede to the demands of LJP on number of seats. "We can also offer an utmost four seats. We can't give in to his demand for ten seats," said a source.
Ram Vilas Paswan's political history is full of such U-turns. He was a part of the BJP led National Democratic Alliance and resigned over the Gujarat riots. In a bid to play the kingmaker post a fractured mandate in the Bihar assembly elections in 2005, Paswan stuck to his condition of appointing a muslim CM for lending his support, to which Lalu did not agree as he himself wanted to become CM. After a six month's president rule, Nitish Kumar came to power in November 2005.