The enthusiasm was palpable as Jaipur stepped out in historic numbers to vote for its future. From serpentine queues of first-times voters to beaming elderly, the spirit to make a government truly representative of the people ensured voting ended peacefully in the district. Team dna brings you a round-up.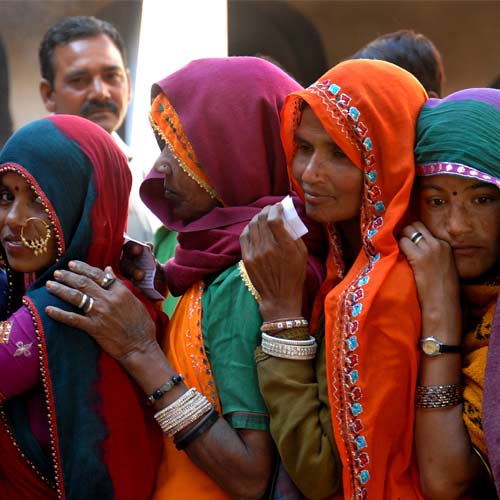 Sanganer
The early morning winters led to a slow start at various polling booths in Sanaganer where BJP candidate Ghanshyam Tiwari and Congress' Sanjay Bapna are in a head-to-head fight. While urban voters in Mansarovar and neighbouring colonies were quick to turn up at booths, crowd in rural areas trickled in only after the sun shone bright. All around the constituency, large number of BJP workers were seen managing polling activities, while at certain polling booths near Malpura Gate Congress tables were found missing! BJP candidate Ghanshaym Tiwari's son Akhilesh Tiwari could be seen managing movement of party workers from each booth, while Congress candidate Sanjay Bapna himself was going from one polling booth to another to keep a check on activities.
Malviya Nagar
This seat is being keenly watched in the city as BJP's senior legislature Kalicharan Saraf is facing tough challenge from Congress candidate Archana Sharma. Voters in Jhalana started turning up in large numbers at various booths since early morning. However, in posh colonies, like C-scheme, voting remained slow in the early hours but picked up in the afternoon; Mahaveer Public School reported about 20% voting in the initial hours. In Bapu Nagar, where Poddar School was the booth, many elderly voters came to cast their ballot. Both Sharma and Saraf visited each polling booth along with their supporters. Meanwhile, the district administration deployed BSF jawans at certain sensitive polling booths. Several booths were also being monitored by webcams, which were linked to the Election Commission in New Delhi.
Kishanpol
Long queues were seen at all polling stations from Kachchi Basti area to the posh colonies. As soon as voting began at 8am, there were long queues at booths in Subhash Colony, Ram Nagar, PNT Colony and other posh localities. Similarly, voters of Bhatta Bast, Ramganj, Purani Basti, Brahmpuri and Shastri nagar area also turned up in huge numbers. Meanwhile, there were reports of spats between supporters of BJP candidate Mohan Lal Gupta and supporters of Congress candidate Amin Kagzi. Similarly a minor incident was also reported from Chandpol.
Polling percentage remains similar for areas dominated by Hindu and minority voters.
Vidhyadhar Nagar
Voter turnout was relatively higher in rural parts of the constituency and youth turned up in large numbers. The drive to vote was visible from the fact that a lot of elderly queued up at booths. A pregnant lady at booth 43 was immediately rushed for her delivery as she had insisted on voting before getting admitted to the hospital. If locals are to be believed, the recent rally of Narendra Modi, coupled with appeals by Bhairon Singh Shekhawat's wife Suraj Kanwar have worked in favour of BJP. Meanwhile, despite having quite a few sensitive polling stations, voting came to an end peacefully here. Slight trouble was experienced at some pooling booth but police promptly tackled the issue.

Adarsh Nagar
Dominated by Muslims and Punjabi-Sindhi community, the constituency registered 70 per cent voter turnout, an 8 per cent hike from 62 per cent 2008. Voters thronged booths in Raja Park, Jawahar Nagar, Ghatgate, Gangapole, Jamdoli, Sumerpur and other areas early in the morning, and then after 4 pm. First-time voter, youths and elderly all cast their votes enthusiastically here. A few complaints of defunct EVMs and names missing from voter list were reported. In sensitive areas, CRPF personnel kept watch to stop disturbance in polling. For instance, three level examinations of 'true' voters were conducted at Shri Satya Sai College situated near the Jawahar Nagar slums.
Jhotwara
Though voting started on a strong note in Jobner and other areas of Jhotwara, the percentage dwindled by the end of the day. Lines of voters started thinning in the afternoon and 65 to 70 per cent polling was registered from here through the day, a notch below the state average of 72.49 per cent. This despite both candidates, BJP's Rajpal Singh Shekhawat and Congress' Rekha Katariya, starting their day early by visiting all the booths. Shekhawat had started visiting polling booths since 6 in the morning while Kataria also got into the field early. By and large the polling ended peacefully in the constituency, with no major instances of violence getting reported.
Hawa Mahal
Polling ended peacefully in this constituency where the ED had tagged several booth "sensitive".
Almost 40 per cent votes were cast in the morning hours and the figure reached 65 to 70 per cent by at 5pm. In some areas like Rambagh Chopar and Chandpole, the figure touched the 90 per cent mark. All communities, particularly Muslim woman, showed great enthusiasm in casting their ballot. Meanwhile, poor facilities at of booths troubled voters. Many buildings identified as polling stations did not have with ramps creating problems for senior citizens. Though ED had marked many booths as sensitive, voting ended peacefully. Some cases of defunct EVMs and non-inclusion of voters name in electoral list were the only problems faced in this seat dominated by Muslim-Brahmin community.
Civil lines
Polling in Civil Lines area remained peaceful and the voter turnout increased as the day progressed. It was noticed that polling in minority dominated pockets was much higher than other booths. MLA Pratap Singh Khachariwas cast his vote at Kumawat Public School and later visited all polling stations personally to take stock of the situation. By late afternoon polling at most booths had crossed the 60 per cent mark. In areas like Bhatta Basti and Hasanpura, women voters turned out in larger numbers and first-time voters also made their presence felt. Several polling booths even had facilities like ramps to help the elderly and specially abled. However, problems like non-inclusion of names surfaced at several places and people could be seen struggling with security personnel to find an alternative solution.