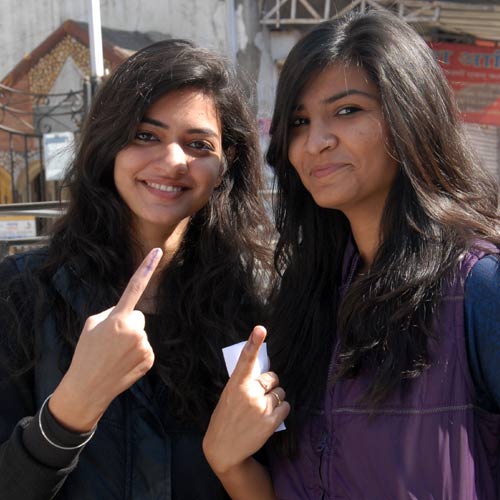 Call it craze for casting their vote for first time or sense of responsibility to elect good candidates, first-time voters were so enthusiastic to exercise their franchise that they started thronging polling booths as early as 7 am while the polling was to start at 8 am.
A visit to several polling centres highlighted youngsters' enthusiasm for the festival of democracy. At the polling centre in Rayan School in Civil Lines young voters had already queued up while the booths were yet to open. They were asked by security persons to disperse as it was an hour for the polling to start.
"We are voting for first time and we want to make it special. So we have reached our polling booth at 7.30 am as we wanted to be the first to cast our vote," quipped an excited Abhilasha Singh.
Trend was not confined to only Civil Lines elsewhere too youths were eager to cast their votes.
"We are here early to vote because we are feeling part of this big election exercise, I am happy to vote," said Nikita Joshi, a first-time voter coming out of Vedic Kanya College in Rajapark.
A long line of first-time voters were visible at LBS College in Tilak Nagar who were eagerly waiting to cast their votes.
"Voting for the first time is a moment of pride. My vote will help in the development of my country," said Vishesh Sareen, a resident of Tilak Nagar.
The youths were so thrilled by the experience that they clicked their pictures with voting mark after exercising their franchise.
"I am a first time voter and nothing would give me more joy in telling my friends that I have voted," said Surbhi Maheshwari, who got her pictures clicked by a relative and immediately uploaded them on a social networking site.