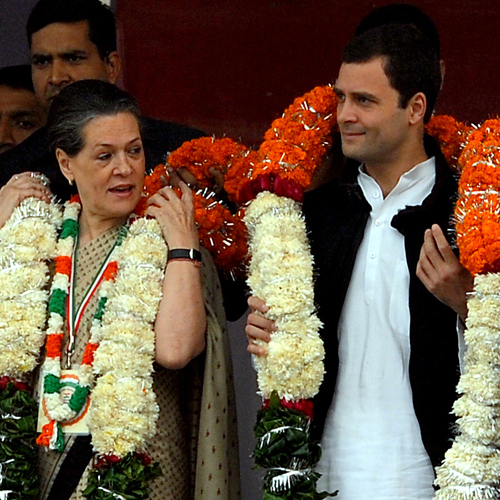 Congress President Sonia Gandhi and son Rahul Gandhi will hold a roadshow here on April 12 before the Congress Vice President files his nomination papers.
"Rahul Gandhi will be accompanied by his mother and UPA Chairperson Sonia Gandhi," Rahul's representative Chandrakant Dubey said here today.
"Both the leaders will land at Amhat airport in the neighbouring Sultanpur district from where they will undertake a 60-km-long roadshow and later Rahul Gandhi will file his nomination papers at Gauriganj," he said. He said Priyanka Gandhi was not coming along, but she would come here soon for campaigning.
To a question, Dubey refuted opponents' allegation of lack of development in the constituency, saying work had been done in every sphere and more development works would be taken up in the future.
"Rahul Gandhi will fight the elections on a positive note on issue of self esteem and development," he said.
BJP has fielded Rahul's cousin Varun Gandhi from Sultanpur district, where the aircraft of the Congress leaders will land.
The roadshow will cover a distance of 16 kms in Sultanpur constituency.
Varun Gandhi has already announced that he would not campaign in Amethi.
Meanwhile, BJP's candidate from Amethi Smriti Irani continued her public contact programme for the third consecutive day today through "nukkad sabhas" (public meetings), during which she alleged Rahul had only made a "mockery of poverty" in Amethi and not taken up development works.
"The bad shape of roads, closed-down industrial units and erratic power supply show the reality of development claims," she said, adding that Rahul along with others had made a mockery of the poor by visiting their homes.