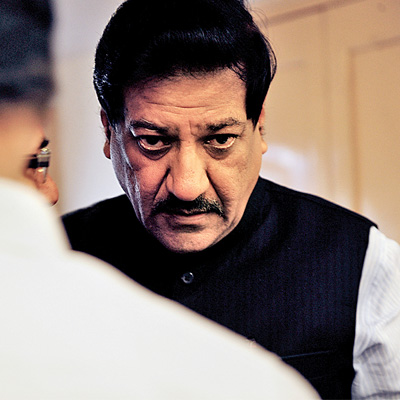 Long criticised for inaction and sitting on real-estate files, Maharashtra chief minister Prithviraj Chavan is finally waking up.
On the anvil is a major push for big-ticket housing schemes for Mumbai.
Leading the list will be amendments to the cluster development scheme, and affordable and inclusive housing. These are Chavan's pet schemes as they are the vehicles through which his government plans to meet its five-year target of 5 lakh houses.
Housing minister Sachin Ahir confirmed that a decision will be taken soon.
"The CM has called a meeting on Monday, in which he may make some final announcements. The state urban development department has already approved these policies and tabled before the CM," Ahir said.
Chavan's move, though, is not without political overtones. Ahead of the assembly elections, he's now turning his focus to housing after clearing reservation for Marathas.
Though housing policy files have been pending with the chief minister, issues like whether MMRDA (Mumbai Metropolitan Region Development Authority) or MHADA (Maharashtra Housing & Area Development Authority) should keep the stocks have been delaying enforcement.
"We have to decide that inclusive housing will be exclusively handled by MHADA, even though it's MMRDA's baby. The size of the houses will be small, with a carpet area of 380-500 sq ft per stock. The rates will be competitive so that the common man will be able afford them," said Ahir.
"Since the size of houses under inclusive policy will be small, with a carpet area of 380-500 sq ft, and will be affordable to the common man, they are likely to be exclusively dealt with MHADA, even though it's MMRDA's baby"
At present, developers are not constructing small houses in the city, Ahir said.
Vimal Shah, president of Maharashtra Chamber of Housing Industry (MCHI), told dna on Sunday it's high time these policies are cleared.
"There are many projects which are languishing for want of development-friendly policies. The city doesn't have enough open spaces for construction. On the other hand, the city's population is increasing day-by-day. Redevelopment is the only solution," he suggested.
Once these policies are approved, there will be a constant flow of housing projects, he said.
"We had planned a rented housing scheme for the weaker section earlier. But people were not interested to stay in rented houses and preferred ownership rights. Therefore, we renamed it as inclusive housing scheme. We will give additional floor space index (FSI) to developers in lieu of constructed houses. It's a win-win situation for the government and the developers," said a senior official from state housing (board?).
He said this scheme will be shared by MHADA and Brihanmumbai Municipal Corporation (BMC). "MHADA can sell these houses through the lottery scheme. The BMC can use them for rehabilitation of project affected peoples (PAPs) and transits," he said.
House That!
Major housing policies
Cluster, inclusive and affordable schemes
5 lakh houses to be generated through these schemes in five years
Carpet area of a house to be 380-500 sq ft
Competitive rates, will be sold by MHADA