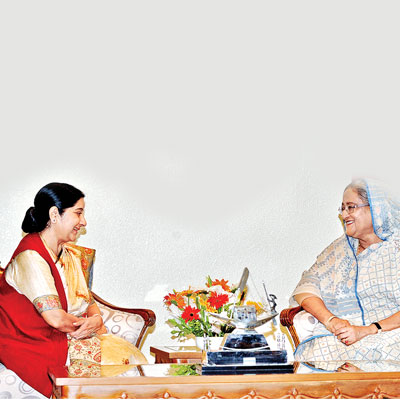 In another foreign policy overdrive to reach out to neighbours, Prime Minister Narendra Modi wrote to his Bangladeshi counterpart Sheikh Hasina Wajid on Thursday, seeking an era of cooperation and connectivity across the South Asian region. In Bangladesh, Modi's colleague and external affairs minister Sushma Swaraj committed to address Bangladesh's concerns over sharing of Teesta waters and implementation of the Land Boundary Agreement (LBA).
Continuing the emphasis on the region, Modi said the well-being of every nation is linked to its neighbourhood, and therefore, he placed special emphasis on India's engagement with its neighbours. "I sincerely hope we can all work together to foster a new era of cooperation and connectivity across the South Asian region, which will ignite our collective surge to prosperity," PM Modi wrote.
Government sources said the Prime Minister had expressed surprise that South Asia was the least integrated part of the world. Neighbours supply just 0.5% of Indian imports and consume less than 4% of its exports. Modi who has been taking cue from the economic successes of China, understand that the ASEAN and Japan, though being political rivals have been the biggest drivers in the stunning growth of Beijing.
Relaxed visa norms on cards
Ministry of External Affairs spokesperson Syed Akbaruddin said that India would relax tourist visa norms for Bangladeshi nationals below 13 and above 65 years of age. He also said that India is still working on the issue of visa on arrival and has not yet arrived on a holistic policy to approach the entire issue.
"There is no proposal for visa free entry of Bangladesh nationals to India. The issue of visa on arrival is something that we in India are working through in the sense that we are in some way apart of coming towards a final holistic policy on how we will approach this entire issue; who will be eligible, under what circumstances and for what duration," said Akbaruddin.
—(With agency inputs)