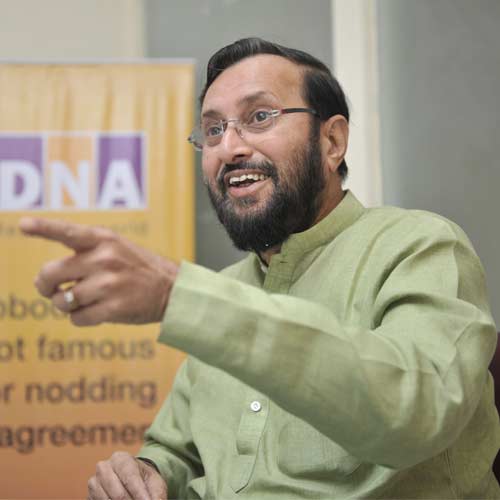 During his election campaign, Narendra Modi had repeatedly attacked the UPA government and its environment minister Jayanthi Natarajan for blocking country's development by delaying green clearances for major projects. After assuming power, it seems, Modi government is all set to ensure fast clearances to infrastructure projects.
BJP leader Prakash Javadekar, who took over as the minister of environment and forests on Thursday morning, launched a new online system in the afternoon for applying and monitoring of environmental clearances.
Javadekar also said that there would be "some big policy changes" in the next couple of weeks which would iron out all problems in environment and forest clearances process.
Ministry of environment and forests is an important ministry which grants the required clearances to industry leaders before they can go ahead with big projects like airports, ports, mining, power plants and road construction.
Launching the process for transparent environmental clearance, Javadekar explained that the new system for online submission of applications for environmental clearances will bring transparency in the application processes for environmental clearance, online real-time monitoring and adherence to timelines for verification, stage-wise approval and compliance mechanism and a more user-friendly application process.
"There shall be a maximum time limit for the entire approval process, with stage-wise timelines. Continuous efforts shall be made to bring down the timelines for each stage. Every state shall be taken along and that the aspirations and difficulties of state governments will be duly considered," he told reporters.
Javadekar explained that there shall be a maximum time limit for the entire green clearance process, with stage-wise timelines to make it transparent and accountable.
A similar system for forest clearances will also be launched soon within a month.
He, however, strongly said that smoothening of green clearances process would not involve making any compromise on efforts to protect environment.
Javadekar stated that growth and environment protection would go hand in hand.
Former environment minister Jayanthi Natarajan was under severe attack by industry for slower rate of environment clearances which also allegedly led to her removal from the ministry. She was replaced by M Veerappa Moily in December 2013 to please industry by giving faster clearances.