On dalit leader's 123rd birth anniversary, claims NDA government awarded him Bharat Ratna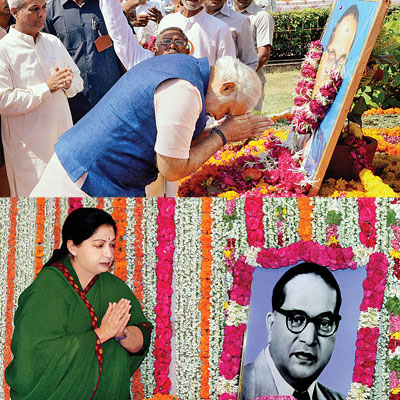 The impatience to get to Delhi's throne is seeing the biggest dalit icon, Dr Bhimrao Ambedkar, being drawn into the thick of electoral politics.
Eyeing the huge chunk of dalit votes, BJP's prime ministerial candidate Narendra Modi chose the 123rd birth anniversary of Dr Ambedkar to go ballistic against the Congress by blaming it for insulting the dalit leader, thus leaving aghast Congress leaders to go in a defensive mode before they could gather their wits to respond.
Speaking at Lakhimpur Kheri in Uttar Pradesh and at Sikar in Rajasthan, Modi blamed Rahul Gandhi for "insulting the chief architect of the Constitution and the god of dalits by taking credit for giving rights and enacting laws in the country".
In his gusto, Modi even forgot who had conferred Bharat Ratna to Ambedkar, a staunch opponent of Hindutva politics, and claimed that it was the NDA government, which gave the coveted award to Dr Ambedkar. The Bharat Ratna was conferred upon Dr Ambedkar by the VP Singh-led Janata Party government in 1990.
Seeing her turf in danger, BSP supremo Mayawati was quick to react. She slammed Modi, accusing him of indulging in politics of lies by claiming that his party respected the dalits and for taking credit for Ambedkar getting Bharat Ratna.
The BJP, which put an advertisement in newspapers for the first time, also held a function on Ambedkar at its headquarters in Delhi. BJP's organisational general secretary Ram Lal said Ambedkar's line "a great man is different from an eminent one, in that he is ready to be the servant of the society," quoted in the party's advertisement, is fit for BJP's prime ministerial candidate; Modi has been saying that he is not a "shasak but a sewak (not a ruler but a servant)."
The danger of others usurping Ambedkar's legacy dawned rather late on the Congress. Spokesperson Randeep Singh Surjewala demanded an unconditional apology from the BJP and Modi for their anti-dalit thinking and systematic acts of discriminating against them. He said that Modi's act and thoughts reflected the anti-dalit mindset of the RSS' core ideology.
"In a book written by him and published by the state government, Modi says, 'Scavenging must have been a spiritual experience for the Valmiki caste'. The book says, at some point in time somebody must have got enlightenment in scavenging. They must have thought that it is their duty to work for the happiness of the entire society and the Gods. These comments in the book Karmayog, reflect Modi's anti-dalit mindset," said Surjewala.
He alleged that despite having 14 per cent SC and ST population in the state, Gujarat government's budgetary allocation for the community is just 5.42 per cent. "States are required to allocate budget proportionate to population but Gujarat government has allocated lesser amount for the community."