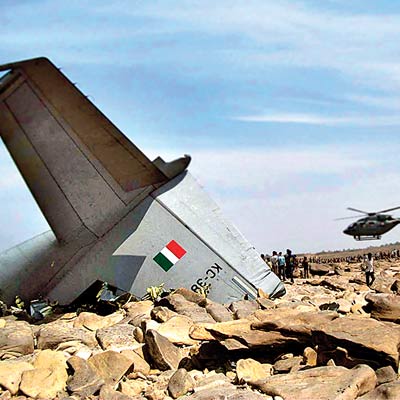 The preliminary investigation into an 'unusual' crash of IAF's Hercules transport aircraft has strongly indicated 'human error' as the most probable reason for the crash. And the Indian Air Force has ruled out possibility of a serious technical snag in the crash of one of the world's safest military aircraft with four engines and other high end technology.
Though the IAF has ordered a court of inquiry to establish the cause of accident, initial investigation has pointed out an 'error of judgement' on the part of the pilot in maintaining the flying height. IAF has sent the flight data recorder and cockpit voice recorder to the US for its detailed analysis.
"The aircraft was on low level tactical flying mission, practising penetration of enemy's air defence. And the aircraft was supposed to fly at minimum 500 feet above the obstruction level. During manoeuvring, the aircraft fell off. But there was no distress call by the pilot before crash," said an officer.
IAF is maintaining that all three pilots on board were quite senior and experienced. "The lead pilot of the aircraft has more than 5,000 hours of flying experience and at least 1,000 hours of flying C-130 J aircraft. It is hard to believe that a human error caused the crash," said an IAF officer.
Meanwhile, the IAF has ruled out possibility of presence of any fake Chinese parts on the ill-fated aircraft. Two years ago, an investigation by the US Senate had found presence of fake Chinese parts in various US military aircraft.
"Chinese parts have no bearing on flight safety. We have sent suspected parts to the US for verification. No fake Chinese parts were found in any of the Indian aircraft," said the officer.
The Super Hercules Special Operations transport aircraft crashed in Rajasthan killing five crew members on Friday last after taking off from Agra. India had recently inducted six C-130J Super Hercules aircraft, which were bought from the US at a cost of around Rs 5,780 crore ($962 million) four years ago.
The home base of the 77 squadron 'Veiled Vipers' operating the aircraft is Hindon in Ghaziabad near New Delhi.