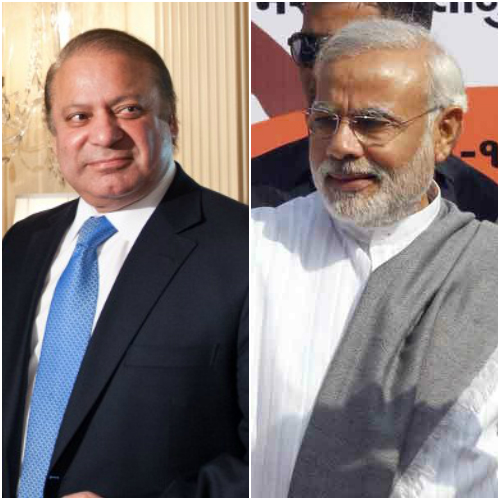 Pakistani journalists and politicians alike welcomed the decision of their Prime Minister Nawaz Sharif to visit India and attend the ceremony swearing Narendra Modi in as the Prime Minister of India.
While Sharif's daughter, Maryam Nawaz Sharif, tweeted saying the visit will help remove psychological barriers and there is a need for cordial relations between India and Pakistan, journalist Mehr Tarar said this is a new beginning for India and a new turn in Indo-Pak relations.
I personally think cordial relations with new Indian govt should be cultivated. Will help remove psychological barriers, fear & misgivings.

— Maryam Nawaz Sharif (@MaryamNSharif) May 23, 2014
This is great.All SAARC leaders invited to Mr Modi's swearing-in has RSVP'ed yes.A new beginning for India,and a new turn in Pak-India talks

— Mehr Tarar (@MehrTarar) May 24, 2014
Cutting across party lines, Indian politicians on Saturday welcomed the news that Nawaz had accepted India's invitation to attend the ceremony.
Narendra Modi is to be sworn in as the prime minister of India on Monday, May 26, at 6 pm, and in a one of a kind gesture, all the members of the South Asian Association for Regional Cooperation (SAARC) have been invited to attend the grand ceremony.
Instead of appeasing India, Nawaz Sharif should represent nation's aspiration by reviewing his decision to visit Modi's oathtaking ceremony

— Hafiz Muhammad Saeed (@HafizSaeedJUD) May 24, 2014
Good news, moving on from stalemate@WorldPTV: Nawaz Sharif, Narendra Modi to hold bilateral meeting on May 27, says the Pakistan PM's office

— sherryrehman (@sherryrehman) May 24, 2014
While M.Singh didn't accept Pak's invite last year. MNS accepts Indian PM oath taking ceremony. Bold step #regionalprosperity

— Hina Butt (@hinaparvezbutt) May 24, 2014
The omnipotent and brave PM Nawaz accepts Indian PM oath taking ceremony. Big and bold step towards regional prosperity. #PMLN

— Hina Butt (@hinaparvezbutt) May 24, 2014