Over gup-shup, garam chai, ghats and Ganges: Gauging Varanasi's political mood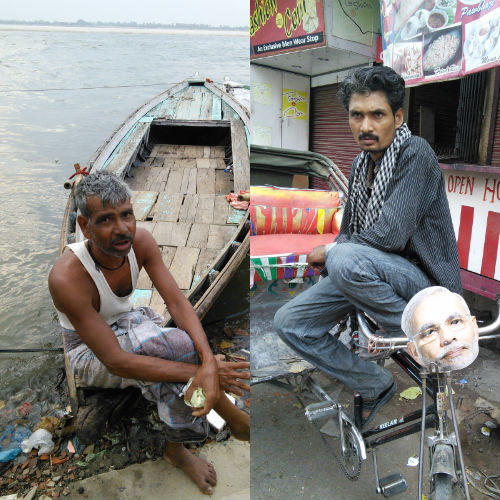 Is the scene in Varanasi going to be as vibrant as our news room in Noida? Are there people talking about these nitty-gritties in Kashi too? The whole world has set its eye on the political match in India, but how serious are we in giving direction to one of the most high-pitched, defining elections in the history of India? I had my share of doubts, curious, I decided to bagpack for a two-day sojourn to the holy city.. Banaras.. Kashi.. Shiv Nagri... Varanasi.
My doubts flew out of the window as I stepped into the taxi that took me to my hotel. My taxi driver, an old, experienced, erudite and well-articulate man talked to me at length about the political choice he has made. Backed by facts, a studied look at all the candidates, Maurya ji, spelled in very simple words, the course he sees for Varanasi. Pleased by the engrossing conversation I had, I was eagerly looking forward to such happy surprises ahead.
Unable to contain my excitement, I marched towards Kedar Ghat at 4 in the morning to see the much talked about 'sunrise on the ghats'. While the sun showed up, tearing the thick clouds, the holy chants filled the atmosphere with sublimity. At that very instance, my boatman, Kaju ji, caught me by surprise. He emphasised, "Madam ji, you know, no one can run the country better than the Congress. Ajay Rai is a local man, why vote for outsiders?"
When I asked about his knowledge over the infamous scams the party is caught in, he dismissed my question, saying, it would be wrong if any other party came into power except Congress. Murli Manohar Joshi from the BJP has had his fair chance. What difference did he make, he counter-questioned instead.
Ah! So a local person identifying with a local face, some one he thinks his own, someone he feels is approachable. Well played, Congress, I thought.
The fisherman around that place seemed to disagree and opened up his shirt. Underneath it, was a caricature of Narendra Modi printed on his T-shirt. He yelled, "Modi hamare dil mein hain.." (Modi is in our heart). He gleefully posed for the shutterbugs and was delighted that his choice got registered. Varanasi will become like Gujarat, ab acche din aane wale hain! (The good days are going to come!)
Seeing him getting clicked, the local boat organiser, came up to voice his choice. These BJP fellows have turned a blind eye to the realities. How can we forget the peaceful reign we saw during Mayawati ji's time? The city was so peaceful then. I hope good sense prevails and people wake to voting for BSP's Vijay Prakash Jaiswal and not the Gujarati who is going to sit in Delhi!
With another local opinion in tow, the ride back to the hotel, turned out to be quite illuminating too. Auto driver Bablu bhai was not a bit uncomforted by calling Varanasi people 'bael' (Bulls). He said, the bulls are chanting Modi, Modi, Modi. The secular ones, rising above caste and religion, and making corruption their enemy, will only vote for Jhaadoo. I went to Kejriwal's rally with a Swaraj topi on my head. I am a proud AAP follower, will tell all people I could, to vote for honest politics this time.
The fearless, free-flowing conversations were only getting better! Secret ballot seemed like a passe. With people wearing AAP caps, Modi t-shirts, holding Congress flags or admiring BSP's reign, there was a mixed wave, I sensed. Mixed views, backed by thought. Good sign of democracy, I thought. I was already loving this trip and it was just 6:30 am. An early start just adds to so many hours to the day. I am already charged up, and so are the people of Varanasi.
On my way, I observed, a chaiwallah (tea-vendor) was sporting an AAP cap, while a man with saffron cap was cleaning the road using a jhaadoo (broom). I smiled at the irony. It was just too well-interspersed, or was I thinking too much? Varanasi's political mood was palpable, infectious too.
I spent the entire two days by being amidst the devotees, chaiwallahs, cab drivers, paanwallahs, rickshaw pullers, auto drivers, shopkeepers, guards, peons, college students, boatmen, pandits, pujaris, datun, shikanji, comb-sellers, foodies, guides, shopkeepers or just about anyone on the streets... Was sometimes talking to the people, other times, enjoying their intense political discussions and seldom choosing to be a mute spectator to the political discourse on the streets.
So, over gup-shup, garam chai, ghats and Ganges, I tried to gauge Varanasi's political mood.
Here are some of the arguments and counter-arguments, directly from the people's mouth, the ones who are going to resonate what India wants.
Here are some interesting one-liners I picked:
"It's okay if behenji makes statues, the goondagardi on roads in her time was minimum."
"Ajayji won on independent seat, Ansariji is supporting them, so would Muslims. He has bright chances!"
Person A: "The crowd that I saw during Modi ji's rally was a sight I have never witnessed in my life! Seemed like the whole Varanasi was on the streets!"
Person B: "Yeah, yeah, half of them were called from Gujarat and Delhi!"
"I want to see a person as honest as Kejriwal to be in the Parliament, Modiji' will anyways win from Vadodara!"
"Hum sabne toh 90% mann bana liya hai Kejriwal ji ko hi jeetayenge yahan se. Dekhiye kitni mehnat lar rahe hain, 12-12 sabhayein large gain din mein. Rural area par to chha gaye gain janaab." (We have made up our mind, we shall vote for Kejriwal. He is an honest man, is holding 12 sabhas a day, rural area people have become his fans and followers.)
"All Pandit votes would go to Chaurasiaji from SP, I can give you in writing! "
"Truth will triumph. AAP has emerged as new hope for Indians. Goondaraj, dynasty politics, dividing voters in the name of religion must end and Varanasi will show the way to all."
"Muslims toh AAP ko ya Congress ko hi vote denge. BJP ne galat bayan kiya na Muslims ke khilaaf." (Muslims will vote only for Congress or AAP, BJP passed unfavourable statements which were against Muslims.)
"Arey, jo to Dilli se bhaag gaya tha, yahan kya lene aaya hai?"
"Modi to pehle Ram ki, ab Ganga ki rajneeti larne aaye gain, unhe Janata ki parwah nahin!" (Modi first played politics in the name of Rama, now, in the name of Ganga!)
Person A: Gujarat is A-one city now!
Person B: Have you been there?
Person A: No, but I have heard his rallies.
Person A: What if he is lying?
Person B: Just shut up! "
"Har har Modi, Modiji is best, best!"
"Jo Kejriwal se darta hai, woh do seeton se ladta hai!" (The one who is afraid of Kejriwal, is fighting from two seats.)
"SP will bring back goondaraaj, but hostile BJP goons are an intolerant lot."
"Where ever he goes, Kejriwal recieves a slap. He should have not hurried and taken care of Delhi first."

"Modi Vadodara kyun chhodenge? So toh wahan me hain. Woh to Banaras chhodenge! Humare yahan lagta hair phir se chunaav honge!" (Why would Modi leave Vadodara seat? He is from there no. He would abandon Varanasi and sit in Delhi. We will have re-elections)

The political banter went on and on, but I missed a few voices, I later realised. Those of women, the Christians and Sikhs there. I am wondering what are they must be deliberating upon. They are the invisible minority, it seems. Yes, women too. Mainly involved in domestic chores or praying in the temples, I did not get to hear them much during the two days. Women are less participative in publically voicing their opinions, but when cajoled, they don't shy from putting forth their choice...
Rest, the visible and the invisible, will be crystal clear on May 16, the poll-result day. Not sensing a very clear wave or a sweeping slogan all across, I reckon a close fight and a fractured mandate. Let's wait and watch till then, just as I did, as I put the two day of an exciting and learning journey at Varanasi to its befitting end, by immersing myself in the mystical Ganga aarti. What a soul-balming experience! Truly rewarding.
For more interactive ground reports, check here
Richa Taneja is Manager, Digital Content, Zee Media Corporation for iamin.in