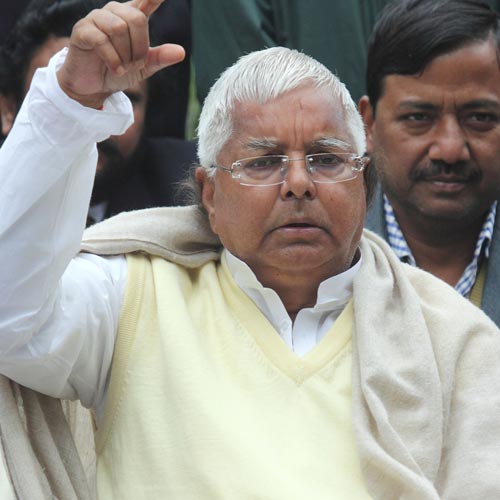 Coming out of a jail here on bail, RJD supremo Lalu Prasad on Monday said he would "drive out the communal forces" from the country, like what Lord Krishna did to Kansa in the epic Mahabharata.
"Lord Krishna was born in jail, and he went on to eliminate Kansa... I will drive out the communal forces," Lalu told reporters near the gate of the Birsa Munda Central Jail, where he was lodged for two-and-a-half months following his conviction in the fodder scam.
Prasad said he was not perturbed when being sent to jail as he had faith in the judiciary. "The fearful can't do anything. Only the strong can come to the jail," he said, adding that he was now free and would chase away the communal elements who are trying to make inroads into Delhi.
"I will go around the country to strengthen the secular forces. Narendra Modi, BJP or RSS will not be allowed to realise their dreams," he said.
Continuing his diatribe against "communal" forces, Lalu said, "The communalists will be displaced from Hastinapur (a mythological place referred in Mahabharata)." The RJD supremo claimed that the country's fate was hung in balance as the year 2014 would "decide" whether "Bharat will splinter or remain united".
"I pray to parties with secular credentials and their leaders not to allow this happen. I urge them just to rewind to the time of 1947 when the country was partitioned. I will throw my full weight behind secular forces (to make India united)," he said.
Lalu was convicted along with 44 persons by the Special CBI Court of Prabhat Kumar Singh on September 30 for fraudulent withdrawal of Rs 37.7 crore from the Chaibasa treasury during his tenure as Chief Minister of Bihar.
On October 3, the court had pronounced five years' prison term and slapped a fine of Rs 25 lakh on him. After the Jharkhand High Court had rejected his bail plea, Lalu moved the apex court and obtained bail on Friday.