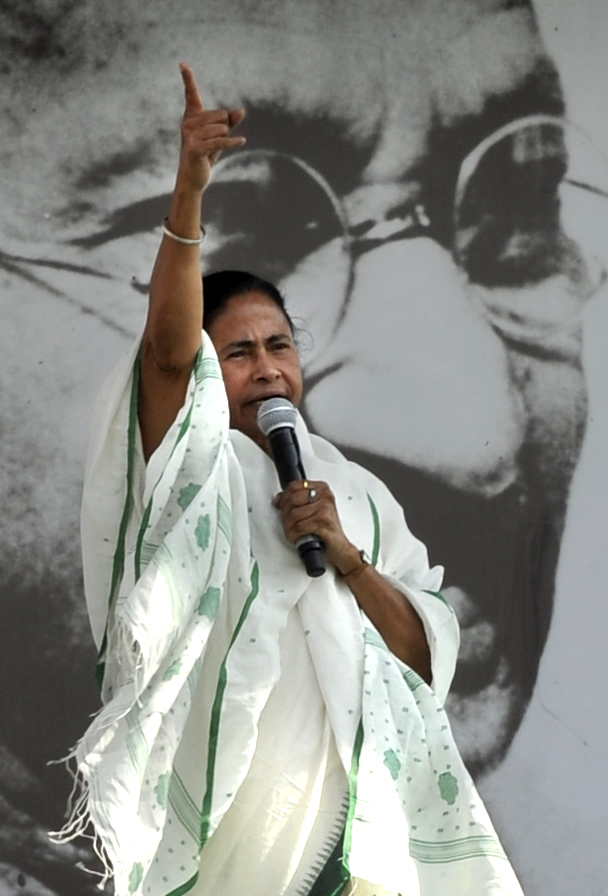 A day before West Bengal goes into the crucial final lap of the Lok Sabha election, Chief Minister Mamata Banerjee today appealed to voters to exercise their democratic right peacefully and fearlessly and claimed that opposition parties were indulging in false propaganda.
"Some people have lost the elections even before polling.
They are spreading false propaganda. Have trust on us and vote fearlessly," the Trinamool Congress supremo told a vernacular news channel.
She said that some parties were deliberately playing "dirty politics and trying to do the politics of riots" while the CPI(M) is doing "the politics of natak (drama)".
Opposition parties, including the CPI(M) and the Congress, alleged that the ruling Trinamool Congress was indulging in violence and that they were terrorising voters.
Brushing aside allegations of rigging in the last four phases, Banerjee asserted, "Trinamool doesn't have to resort to rigging to win polls."
Without naming Saradha chit fund scam or any of the accused, she said, "No one takes more action than me. Even if the people are from my party, I take action whether it is my MP, MLA or councillor".
At present, suspended TMC MP Kunal Ghosh and Saradha Group chairman Sudipta Sen are in jail. The Supreme Court ordered a CBI probe into the multi-crore scam on Friday.
Banerjee also alleged that her party candidate from Behrampore Lok Sabha constituency Indranil Sen was today manhandled.
She asked her party workers to keep their cool and not to fall into any trap.
TMC general secretary Mukul Roy claimed that elections so far remained 100 per cent peaceful in the state, but there have been cases of pre-planned 'natak' (drama) by Congress, BJP and CPI(M).
"The Election Commission must take steps. After a newspaper report said that some CPI(M) leaders are trying to rig some booths, we have complained to the EC," Roy told reporters.