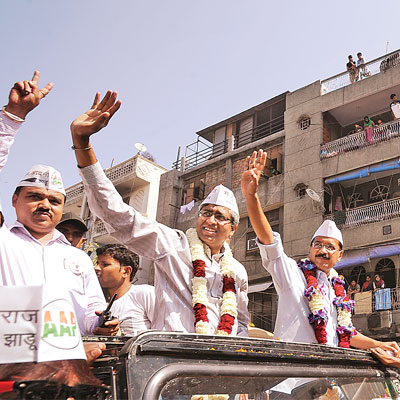 Undeterred by the lukewarm response of the middle class, which formed its backbone until a few months ago, Aam Aadmi Party (AAP) national convener Arvind Kejriwal continued to sell cheap electricity and water to Delhi citizens during a roadshow in the capital on Tuesday.
Seeking votes for AAP's Chandni Chowk Lok Sabha constituencycandidate, news anchor-turned-politician, Ashutosh, Kejriwal attracted massive crowds and loud cheers and applause as their 20-car convoy, two-wheelers and e-rickshaws, made their way through the congested and serpentine streets of old Delhi.
Kejriwal didn't lose the opportunity to recount the achievements of the 49-day AAP government in Delhi. "And again now, you have to pay more (for water, power) due to the anti-poor policies of the Congress and the BJP," said Kejriwal, standing in an open jeep next to Ashutosh.
The enthusiasm on the streets was such that even rag pickers stopped to participate. People vied with each other to get an opportunity to shake hands with Kejriwal, who obliged a few times. Others were happy capturing the action on their smart phones. At a few spots, people burst crackers to welcome Kejriwal. And school children, taken in by the buzz in the environment, distributed AAP pamphlets among the crowd; the Election Commission has banned using children in election campaigns.
Ayaz Khan, a student in a government school, told dna: "One of my neighbours asked me to distribute pamphlets. It is fun."
Another teenager, Arun, asked people to wear the trademark Gandhi topis carrying the AAP slogan.
Attacking Congress president, Sonia Gandhi for her recent remark that running a government is not child's play and that people run away when entrusted with responsibility, Kejriwal said that he was not running away and is still among the people. "The comment was meant for her son and Congress vice president Rahul Gandhi, who looks like a child," he said.
Taking a jibe at the BJP prime ministerial candidate, Narendra Modi, Kejriwal said that Modi wave is only visible on TV screens. "There is a lot of infighting within the party (BJP) to become prime minister, and they are claiming there is Modi wave sweeping the country," he said.
He also continued his attack on industrialist Mukesh Ambani. "Both, Rahul Gandhi and Modi are with Mukesh Ambani. It is only due to our opposition that the Election Commission has stayed the increase in gas price, which was done to benefit Mukesh Ambani. With an increase in gas price, cost of production of all the items will increase resulting in higher inflation" he added.
During his brief address at different spots, Kejriwal focused more on the Delhi assembly than on the general election. He repeatedly said that AAP will reduce the power and water tariff and pass the Jan Lokpal and Swaraj bills when the party gets over 50 seats in the assembly. "Last time, within a year of formation of party, we won 28 seats but failed to pass Lokpal and Swaraj bills. But the next time, when we will win over 50 seats, these bills will be passed," he added.