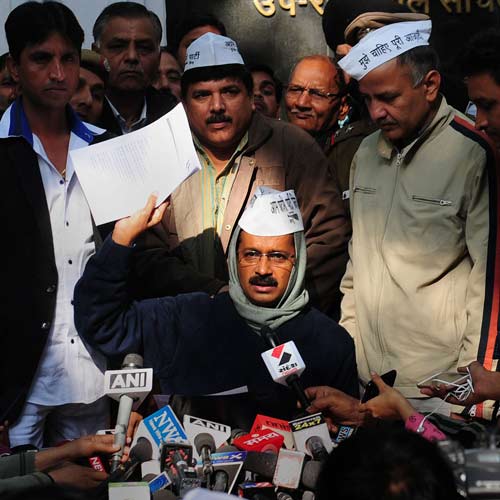 Following Congress' unconditional support to them, the Aam Aadmi Party (AAP) on Tuesday said it will seek people's opinion on whether they should form government in Delhi using Congress's support or not.
AAP said to know wish of the citizens of Delhi, it will reach out to them through over 30 lakh pamphlets and public meetings in each of the 272 municipal ward in the national capital,
People can also call or SMS (YES/NO) telling their view on mobile number (08806110335) of the party, said a letter written by AAP's candidate for post of chief minister, Arvind Kejriwal. AAP will also collect people opinion through their website (www.aadaadmiparty.org) and their Facebook page.
This letter by Kejriwal to people of Delhi details all 18 issues over which it had sought response from BJP and Congress and circumstances that arose after that.
Till now AAP had maintained that it will neither offer support to BJP or Congress nor would take it from them. But after criticism and demands from several quarters that AAP should form government with Congress, it had written letters to BJP chief Rajnath Singh and Congress president Sonia Gandhi seeking their response on 18 issues. Congress has responded by accepting all demands, BJP is yet to respond.
The entire process of seeking the public opinion would be completed by Sunday following which the Aam Aadmi Party will meet Delhi's Lt Governor Najeeb Jung on December 23 (Monday) to inform them about their final decision.