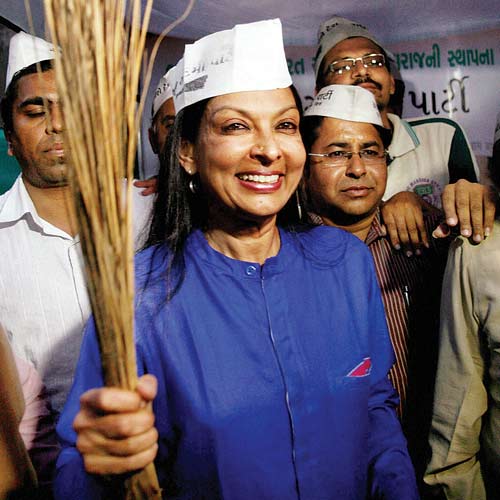 Every Delhiite will now be an anti-graft inspector who can conduct sting operation and trap corrupt government officials, chief minister Arvind Kejriwal said on Wednesday while announcing the anti-corruption helpline. With this, he has fulfilled another of his promise he announced while taking oath as chief minister.
The announcement came on a day when activists of a right-wing group attacked and vandalised the Aam Aadmi Party headquarters in Kaushambi Ghaziabad with bricks and stones to protest against party leader Prashant Bhushan's remarks on referendum in Kashmir.
According to sources in the government, N Dilip Kumar, former Joint Commissioner of Police (Vigilance), Delhi, is likely to be appointed as adviser for the project. During his tenure as chief of the anti-corruption bureau (ACB) in the national capital from 2007 to 2009, Kumar carried out 50 sting operations to expose corruption in government agencies. A senior official said Kumar used to ask complainants to record their conversation with corrupt officials and then he used to lay trap. "The process the chief minister is talking about to nail corrupt officials was used by N Dilip Kumar," he added.
"This helpline — (011) 27357169 — will makes every citizen in Delhi an anti-corruption inspector and anti-corruption crusader. The purpose is to create fear in the minds of every corrupt individual," Kejriwal said. The helpline will be open from 8 am to 10 pm everyday, he added.
"We are in the process of acquiring a four-digit helpline number which will be easier to remember. It will be announced in the next few days," he said. The Delhi government has planned a publicity drive to advertise the number.
To make the helpline effective, the Delhi government has overhauled the 'defunct' vigilance department and the anti-corruption bureau (ACB), which would take up the complaints.
When a citizen makes a call to the helpline, an official from the call centre would note down the name and number of the caller. Within the next 24 hours, an adviser, an officer from ACB, will call the complainant and advise how to conduct the sting operation to lay trap to catch the corrupt red handed.
"An adviser from the ACB would give his or her personal number to the complainant. After conducting the sting operation, the complainant should get back to the same advisor following which a trap will be laid to nab the accused," Kejriwal said. A team of the state vigilance department will look into these matters, while teams of the Delhi Police will be on standby for any assistance. The chief minister also said that there would two piece of evidence against the corrupt official. "Trap and the sting would together put as evidence against the official caught. Our government would make provision in law so that sting operation is used as evidence in court," the chief minister added.