Pak army fires at eight Indian border posts, rejects flag meetings.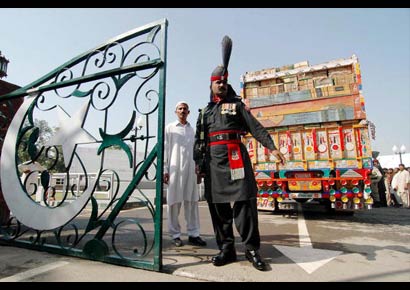 The simmering tension between India and Pakistan showed no sign of abating on Friday as cross-LoC firing was reported at at least eight border posts. Adding to the tension were reports of troop build-up on both sides of the border.
Sources said requests were sent to the Pakistani side for a flag meeting to de-escalate the tension on the LoC, but there has been no response as yet. In fact, Indian intelligence intercepts of communication at the Pakistani border posts reveal that the Pakistani army has cancelled all leaves and ordered its troops to report to duty.
The Indian side has been bolstered with the presence of additional Border Action Task Force personnel. Surveillance has been heightened with both the army and air force deploying unmanned aerial vehicles in the areas over Poonch and Rajouri sectors.
Sources said Pakistani troops fired intermittently at eight Indian border posts on the LoC in Krishna Ghati and Sonagali around Mendhar sector and Poonch on Friday. The firing lasted for 20 minutes.
Senior Indian army officials with the 25 Division Brigade Infantry — which controls the area around Mendhar — told DNA that since Monday, the army has sent at least five hotline messages from its posts in Roshni and Chakkan-Da-Bagh for holding their regular flag meetings. They are crucial because they help in diffusing tension, exchanging views and calming tempers between troops on ground. However, there has been no response from the Pakistani side.
Meanwhile, India on Friday confirmed that Pakistan has suspended cross-border trade. "As per our understanding, because of some circumstances in one sector, neither trucks nor buses could go," said Syed Akbaruddin, spokesperson for the ministry of external affairs. More than two dozen trucks were carrying mostly perishables like vegetables.
Sources said such closures are routine when tensions run high, but in this case, there was "no intimation" from Pakistan.
Movement of locals has also been restricted. There are 30-odd villages in the Poonch-Rajouri-Mendhar area, several of them on the LoC. Day-to-day lives of residents living in them have been affected with locals anticipating the Indian army to take revenge against Pakistan any time.
Amid all this, Pakistan's foreign secretary Jalil Abbas Jilani summoned India's High Commissioner Sharat Sabharwal to protest against "repeated", "unacceptable" and "unprovoked" attacks by the Indian army which led to the death of a Pakistani soldier on Thursday. Jilani asked India to "investigate violations of ceasefire by Indian troops" and "emphasised that such unprovoked attacks were against the spirit of the ongoing peace process".
Sabharwal said India's troops undertook "controlled retaliation" in the face of "unprovoked firing."
Akbaruddin emphasised on the sanctity of the LoC in Jammu & Kashmir, established after the Shimla agreement of 1972, and said this was the most important confidence-building measure between India and Pakistan.
Pakistan also reiterated its demand for a United Nations Military Observers Group for India and Pakistan (UNMOGIP) probe. "It is well known that following the Shimla agreement in 1972 and the establishment of the LoC, the UNMOGIP has no relevance or role to play whatsoever," said Akbaruddin. "India and Pakistan have a mechanism to try and resolve these issues bilaterally."