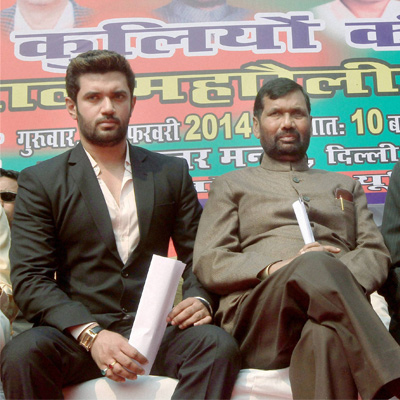 A meeting between members of the Lok Janshakti Party (LJP) on Tuesday fueled speculations over the possibility of the party aligning with the National Democratic Alliance, but party chief Ram Vilas Paswan's son, Chirag Paswan, rubbished the rumours, clarifying that the meeting had nothing to do with the BJP.
"It was just a regular meeting and there were no talks with the BJP members. It had nothing to do with them," said Paswan.
"There would be an official meeting if any such developments take place and we will announce it officially," he said.
"All the leaders had generally come over for breakfast and on tea. It was not a political meeting," he added.
Speculations of the LJP, which is currently an ally of the Congress, forming an alliance with the BJP arose, as a leader of the party made an informal declaration about the development.
Reportedly, Paswan's 'U-turn' on the parties would have happened due to the Congress not conceding more than five seats to his party in the Lok Sabha whereas he had demanded a minimum of 10 seats.
Chirag Paswan, however, did not spill out party's plans and had maintained that LJP did not have any talks with BJP and nothing has been decided. However, he did not rule out a future tie-up with NDA.
"We are not in talks with BJP right now. Everything will be decided only after the parliamentary board meeting," he said.