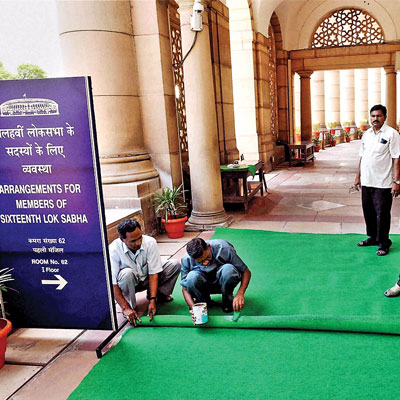 Tentative dates
Protem Speaker — May 26
Three days for oaths of members from 26, 26 and 28
Election of Speaker — June 2
Joint session to be addressed
by President Pranabh Mukherjee — June 4
The Rashtrapati Bhawan alongwith the Lok Sabha secretariat are giving final touches to the preparation of constitution of 16th Lok Sabha and setting tentative dates for several events. Both the offices are shortlisting names of seniors MPs who would function as protem speaker to administer oath to all the 543 elected MPs.
Though the practice is to pick up the longest serving member of the House, Lok Sabha secretary general P Sreedharan on Thursday said the experience of both the Lok Sabha and the Rajya Sabha is taken into consideration in choosing the pro-tem speaker, who presides until the election of the full-fledged speaker. His statement gave rise to speculation that Lal Krishan Advani could be asked to administer oath to members. It will be his 11th term — four as a member of the Rajya Sabha and seven as a member of the Lok Sabha for Advani making him the senior most member.
In case he declines, the duty will be once gain fell on the shoulders of the outgoing minister of state for social justice and employment Manikrao Gavit. If e-elected from Nandurbar in Maharashtra, it will be his 10th term. In the last 15th Lok Sabha, Gavit was tge protem speaker. Another MP having the equal standing is CPI(M) leader Basudeb Acharia if he is re-elected from Bankura.
The secretary general said six guidance centres will start functioning from Friday, the day results will be declared, at Delhi airport and four railway stations at Delhi, New Delhi, Hazrat Nizammuddin and Anand Vihar, and continue till May 21 to provide round-the-clock assistant for registration and temporary accommodation to the newly-elected members. These will also function during the first three days of the opening session of the new Lok Sabha.
Sreedharan said arrangements have also been made in Parliament House for providing all necessary assistance round-the-clock from May 16 to May 26 in filling up various forms and providing temporary identity card to the MP and the spouse as also the railway pass. Arrangements have been made in the state-run Ashoka Hotel and the state guest houses for transit accommodation until the MPs get the confirmed government residence as one of the privileges.