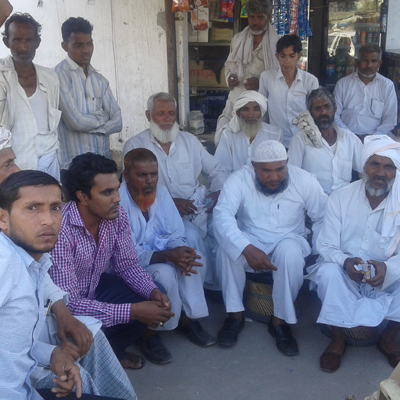 Under the nose of national capital and in the immediate neighbourhood of posh malls of Gurgaon, vast stretches of Mewat region are still craving for water, connectivity, health services and education.
Such is the backwardness in the area, people throng to rallies of "netas", not out of affection, but to have a glimpse of helicopters. And those who see rotors of helicopters cluttering, narrate the stories at the "chaupals" in the evenings, inhaling deep smoke of a common "hookah".
The nearest railway station is some 40 kilometers away in Rewari. Forget the rail link, there are no good roads despite transport minister of Haryana Aftab Ahmed belonging to this region. The area is cut off from development. Locals allege that the Congress government led by Bhupinder Singh Hooda has ignored them.
The scale is heavily tilted towards the Indian National Lok Dal (INLD) candidate Zakir Hussain, even though his chief Om Prakash Chautala is cooling his heels in a jail.
In the backdrop of Aravali hills, primary occupation of inhabitants is agriculture and labour. The region is part of Gurgaon Lok Sabha constituency that is going to Lok Sabha polls on April 10th.
Named after Meo-Muslims, which are over 70% of the area's population, Mewat has largely remained untouched from any kind of development. Not just it has been untouched from the green revolution several decades ago, it is still in the lap of poverty and underdevelopment even as other parts of Haryana like the neighbouring Gurgaon and Faridabad or other areas in the state have made rapid strides.
The area is still agriculturally and industrially backward after 67 years of Independence. But more than anything else, the most burning issue is of water. Of the total net irrigated area of 75,959 Hectares, only 20% is irrigated by canals and rest by tubewells. The people are understandably angry with the political class for the utter neglect by the ruling Congress government while development touched other neighbouring areas.
"Our district was formed nearly 10 years ago but apart from that the Congress government has done nothing for us. There is no water for us ... neither for drinking nor for agriculture. Whatever water we used to get has now been diverted to areas like Palwal and Hodal. We have nothing left," Mobin Khan of Rivasan village in Mewat told dna.
Mewat is notorious for high criminal rate but locals express helplessness. "Our children have neither good schools nor colleges to study but even if they somehow complete their education themselves they have no jobs. What will they do ... they will only end up indulging in criminal activities," Khan added.
Stating that administration has banned all mining activities which were one of the main sources of income for them, the locals rue the fact that it is allowed across the hills in Rajasthan.
The water scarcity is similar in Nuh where the district headquarters of Mewat is located. A local community leader Haji Qamruddin said they have been left to fend for themselves by authorities.
"We rarely get government water supply and are left on the mercy of water tanker mafia that gives only one tanker of water in a week and that too at a price of Rs 800 per tanker. In around 15-20 days, we get water once and that too for only one hour," said Qamruddin while sipping a hukka and flanked by locals.
The total population of Mewat is around 1.1 million of which around 90% is rural. It has a low literacy rate of 41%. The number goes further down to 28% when it comes to the literacy rate of women who constitute half the population.
Employment opportunity is turning out to be one of the biggest problems in the area with many educated youths forced to sit at home or do petty jobs.
23-year-old Sajid Khan, who just completed his MBA is now left to look for a job of a driver as he has been sitting idle at home after completing the course.
"After completing my course, the only job I got was in a Call Centre where I was paid Rs 5000 a month. What else am I supposed to do if not look at occupation like being a driver for which Mewat is famous for," Khan said.
Echoing similar views, his uncle, Salim Khan said Mewat is famous for its drivers and "there is no place in India where Mewati drivers are not found".
But inspite of that there are no government jobs for locals in transport sector. "Some time ago there was a hiring by government for drivers where around 2200 people were needed but only 13 were chosen from our area.
"The worst part is that our local MLA Aftab Ahmed was the transport minister in Haryana government at that time. What can be more pathetic than that?" Khan questioned.
Unlike other parts,there are no signs of any BJP or Narendra Modi wave in the area. "The only time we got enough water for agriculture and drinking was during Om Prakash Chautala's government, but the Hooda government diverted all of that to other areas. Congress MP Rao Inderjit Singh did not visit us for even once in last 10 years. Why should we vote for them? Now he has gone to BJP. We would vote for any of them," said Mohammad Zakir.
They claim the only crowd at the recent rally of the Sonia Gandhi in Nuh was because they wanted to see the helicopter from which Sonia Gandhi had arrived to campaign for the Congress's candidate from Gurgaon Rao Dharampal.
Interestingly, Aam Aadmi Party's candidate Yogendra Yadav, who otherwise doesn't seem to be in the fray, has made some in-roads in the area and people claimed Yadav and INLD candidate Zakir Husain would be the main recipients of votes from the area.