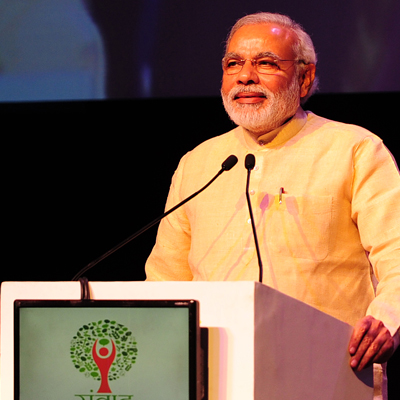 You cannot solve problems of poverty and unemployment by just legislation: Narendra Modi
Saying "change is in the air", BJP's prime ministerial candidate Narendra Modi has said a government headed by him "will go the extra mile" to give justice to all and a dispensation "where nobody needs to be apprehensive or fearful".
In detailed responses to an e-mail interview , Modi said a BJP-led NDA government led by him will be "result-oriented", will not hesitate in taking decisions, will work day and night and will be a "truly representative, transparent and sensitive government".
Foreign relations not tied to individuals: Narendra Modi
In a statement that could allay US concerns on future ties with India if a BJP-led government comes to power, its prime ministerial candidate Narendra Modi has said relations between two nations "should not and cannot be influenced by incidents related to individuals".
Modi, who is viewed as a strong contender to become prime minister after the Lok Sabha election, also said that India has the "right to conduct foreign policy affairs guided by the supremacy of national interest".
Asked by IANS in an email interview if his government's foreign policy would be less pro-West in case the BJP-led NDA was voted to power, Modi said: "Relations between two nations should not and cannot be influenced by incidents related to individuals."
My government will focus on manufacturing, infrastructure: Narendra Modi
A BJP-led government will take speedy decisions, focus on reviving economic growth, give priority to infrastructure and manufacturing, and protect the interest of farmers in land acquisition, the party's prime ministerial candidate Narendra Modi has said.
In an e-mail interview with IANS, Modi outlined his economic vision and said a National Democratic Alliance (NDA) government will seek to clear projects in fast-track mode, push for single-window clearance system, make procedures swift, ensure time-bound delivery and better coordination with the states for faster project clearances.
Pakistan Army chief's Kashmir comment highly provocative: Narendra Modi
Narendra Modi talks about Foreign relations, BJP's objectives for India and why Pakistan army chief's statements were provocative
BJP prime ministerial candidate Narendra Modi has termed the comments on Kashmir by the Pakistani Army chief as "highly provocative" and wished the outgoing UPA government took a "stronger stand on this uninvited interference".
He said the reported statement was tantamount to "interference in the internal affairs of our country"
No witch-hunt but no one above law: Narendra Modi on Robert Vadra
Narendra Modi said he will not "waste" time by launching a "witch-hunt" against his political opponents or individuals, including Robert Vadra, but added that no one was above the rule of law howsoever highly placed.
"I am not going to waste my time in launching a witch-hunt against my political opponents or other individuals," Modi told IANS in an e-mail interview when asked whether Congress chief Sonia Gandhi's son-in-law will be sent to jail if his wrongdoing were proved in land deals.