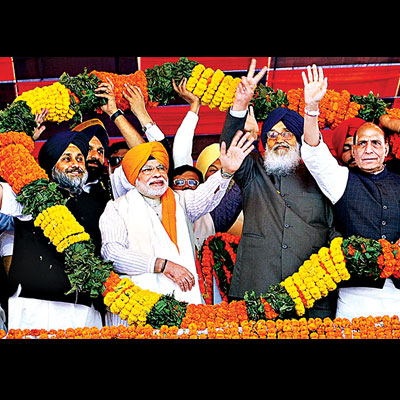 Sunday witnessed the three prime leaders of Indian politics getting into poll gear, addressing rallies in three north Indian towns. Gujarat chief minister and BJP's prime ministerial candidate Narendra Modi addressed a rally at Fateh, a twon in Punjab, Congress vice-president and the party's campaign committee chairman Rahul Gandhi addressed one at Dehra Dun, capital of Uttarakhand and Aam Aadmi Party (AAP) president and former Delhi chief minister Arvind Kejriwal kicked off the party's national campaign with a rally at Rohtak in Haryana.
The tone and tenor of the speeches of Modi, Gandhi and Kejriwal was predictably aggressive, tearing into each other's stances. Modi attacked Congress for corruption and for its divide and rule politics, Gandhi reiterated his agenda of wanting to empower women in the country, and Kejriwal accused BJP and Congress of being backed by financial clout of Ambani brothers, Mukesh and Anil.
Kejriwal has also claimed that he had the Swiss bank account numbers of the Ambani brothers and dared Modi to explain his relationship with Reliance as well as Adani.
It seems that north Indian will be the main battlefield of the Lok Sabha elections this summer because the two major parties, BJP and Congress, strongly believe that their electoral fortunes will be decided in the Gangetic plains. AAP and Kejriwal are also aware that they remain a northern party with a base in Delhi, and if they want to extend their political territory they will have to look around Delhi – Haryana and Uttar Pradesh apart from metro cities like Mumbai and Bengaluru.
Modi's rally in Punjab was a way of cementing the BJP-Akali alliance which is crucial for both the parties. Though Punjab has only 13 Lok Sabha seats, the figure is crucial in an election where there are no clear majorities for the major parties.
Kejriwal and AAP know their strengths. Both Kejriwal and the man of ideas in the party, psephologist and political scientists Yogendra Yadav belong to Haryana and they want to leverage their roots for political gains. The part is also fanning out into neighbouring Uttar Pradesh to make its point.
Congress is expected to lose ground in the northern states, but Rahul Gandhi and his advisors understand well the imperatives of containing the damage and minimizing the losses.
It is in north India more than anywhere else the three prime ministerial candidates – Rahul Gandhi is an undeclared PM candidate of Congress, Kejriwal and AAP are not fighting shy of claiming that if things turn out right, Kejriwal would be the claimant for the PM post, and Modi is already the proclaimed BJP candidate – will be battling for the hearts and minds of the voters.