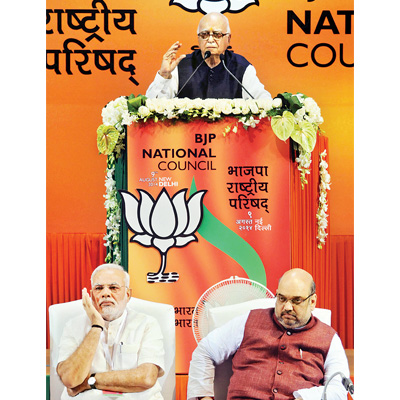 Prime Minister Narender Modi has broke his silence of the last few weeks on Saturday. Speaking at the BJP national council meeting, he said that political pundits are finding it difficult to understand and come to terms with the party's victory in the Lok Sabha elections.
Referring to the election victory — this is the first that the BJP national council, the party's highest forum was meeting after the astounding electoral victory — Modi said that Rajnath Singh was the captain of the winning team, and declared Amit Shah as "man of the match". He said that the credit for the BJP victory goes to the 125 crore people of the country.
He used the party forum to answer the criticism against the government over its stand on World Trade Organisation (WTO). The prime minister accused the Congress of signing away the interests of the poor and the farmers at the WTO. He struck a defiant tone that his government did not mind international disapproval of its stance because it was committed to the interests of the poor and the farmers in the country. Without mentioning the Congress, he said that the previous government had thrown away the interests of the poor at Bali.
He said that the government is open to taking an unpopular stand, citing the 1998 Pokhran II nuclear explosion that then-prime minister Atal Bihari Vajpayee had dared against world opinion as an example, and said that he did not mind isolation because national interests were supreme.
Modi argued that the nation was more important than the party for the BJP. This is why, he said, the Bharatiya Jana Sangh (BJS) sacrificed itself in 1977 to merge with the Janata Party in order to revive democracy. It was an indirect reference to Indira Gandhi's Emergency in 1975.
Modi also took a shot at the Congress, saying that his government has taken faster decisions in 60 days than others have in 60 years. "Disha sahi hai (The direction is right)."