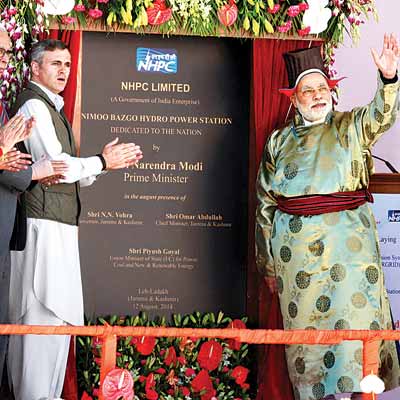 In his first direct attack on Pakistan after taking helm, prime minister Narendra Modi on Tuesday accused the neighbouring country of indulging in a proxy war killing innocent people in India as it has lost the power to fight a conventional war.
"The neighbouring country has lost the strength to fight a conventional war, but continues to engage in the proxy war of terrorism. Indian armed forces are suffering more casualties from terrorism than from war," Modi said while addressing the officers, soldiers and air warriors of Indian armed forces in Leh.
The prime minister did not make the highly expected visit to Siachen glaciers, where Indian army has lost more than 860 troops over the last 30 years. It means Modi will now have to wait for at least a year to plan his visit to the world's highest battlefield as August is the only month when visibility is good enough to ferry VVIPs.
The army has deployed around 3,000 soldiers on the glacier where temperatures can drop to minus 60 degrees Celsius. Guarding the glacier costs the army Rs 5 crore a day.
Modi said it (proxy war) is a global problem and all humanitarian forces of the world should unite to fight this menace. "This is a global problem and all humanitarian forces of the world should unite to fight it. India is committed to strengthening and uniting these humanitarian forces," he said.
Prime Minister said India is committed to strong armed forces, well-equipped with modern arms and technology.
"Jawans should be assured that the entire country supports them. Soldiers remain undeterred in spite of the many negatives and struggles that their families face in day-to-day life," he said.
Later Modi opened the purse strings for the development of the terror plagued Jammu and Kashmir.
"Four important road projects were conceived for the state in prime minister Atal Bihari Vajpayee's tenure. However, these projects witnessed cost escalation, which neither the Centre nor the state was willing to bear. Government of India would provide Rs8,000 crore additional funding for road projects in the state," he said.
Modi said a series of announcements for development of the Himalayan states have been made in the budget. These include organic farming - for which the centre will provide a global market to boost the incomes of farmers in rural areas.
"A research institute for conservation of the natural and environmental resources of the Himalayas would be established.
Saffron cultivation would be given a big boost in the state. A new unit for saffron will be established in Spices Development Board for this purpose", he said.
Maintaining that Pashmina is the pride of Jammu and Kashmir, Modi said a special scheme will be launched to enhance the skill of Pashmina producers and craftsmen.
Prime Minister said 20 percent of the population of the state of Jammu and Kashmir is displaced, and his government is committed to rehabilitate them in a planned way.
"Twenty percent of population of Jammu and Kashmir is displaced. More than two lakh displaced are refugees from West Pakistan, over one lakh displaced are from Chamb, more than four lakh are Kashmiri Pandits and over eight to ten lakh are those who lost their family members in terrorist violence. These are also our brothers and sisters and we
have to think about them," he said.
Modi during his visit to Leh laid the foundation stone for the Leh-Kargil-Srinagar power transmission line at Leh. This 245 km long transmission line will be built at a cost of Rs. 1788 crore.
Modi also dedicated to the nation the 45 MW installed capacity Nimmo Bazgo hydroelectric power project on the River Indus at Leh. Later he flew to Kargil and dedicated 44MW Chutak hydropower station to the nation.