They held wide ranging discussions covering several aspects of Indo-US relationship.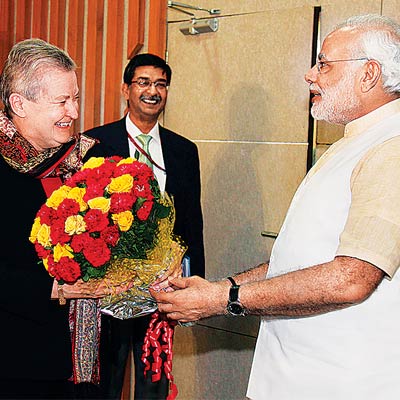 Marking an end to Narendra Modi's nine-year boycott by her country's government, US ambassador Nancy Powell met the BJP's prime ministerial candidate in Gandhinagar on Thursday.
Powell — accompanied by US consul general Peter Haas and other officials — reached Modi's official residence in Gandhinagar on Thursday morning. In a meeting that lasted for over an hour and a quarter, they held comprehensive and wide-ranging discussions covering several aspects of Indo-US relationship and co-operation. Officials said that the issue of granting visa to the chief minister did not come up in the meeting.
The US has already scotched speculations that the meeting would lead to lifting of the visa ban on Modi, insisting there was no change in its policy.
Emphasising that the US-India partnership was important and strategic, the ambassador said the US looked forward to working closely with the government that Indian people choose in the upcoming elections, clearly indicating that it was open to doing business with Modi if he is elected as the prime minister.
A press release issued by US consulate general in Mumbai said the meeting was part of US Mission's outreach to senior leaders of India's major political parties ahead of upcoming national elections.
A state government release said the US ambassador told the chief minister that American businesses were pleased with speed of decision making in the state.
Officials said that the chief minister raised the issue of ill-treatment of Indian diplomat Devyani Khobraghade in the US recently, and was assured by the ambassador that the US was committed to resolving the issue at the earliest possible. He also raised the issue of terrorism with the ambassador.
Powell also met with representatives from NGOs and US & Indian businesses. She also visited the 1-MW solar power plant at Pandit Deendayal Petroleum University in Gandhinagar and interacted with Self Employed Women's Association (SEWA) members.
"Her discussions focused on importance of US-India relationship, regional security issues, human rights, and American trade and investment in India," the consulate release said.
US had revoked Modi's visa in 2005 under a domestic law over 'serious violations of religious freedom' in the wake of the deadly 2002 post-Godhra communal riots.
After Modi, the ambassador also met leader of opposition Shankarsinh Vaghela and other Congress leaders.
"The meeting was a routine one. We discussed the current political situation and other issues. The issue of granting US visa to Modi was not discussed," Vaghela said.
Vaghela said he told the ambassador about several police officers languishing in jails when the issue of human rights situation in the state came up during the meeting.
(With Agency Inputs)